The Surface Duo offers innovation as well as performance and has the potential to change the way we work. In this article, we will take a closer look at the usage scenarios of the Surface Duo and the new possibilities of working digitally with the most compact Surface device.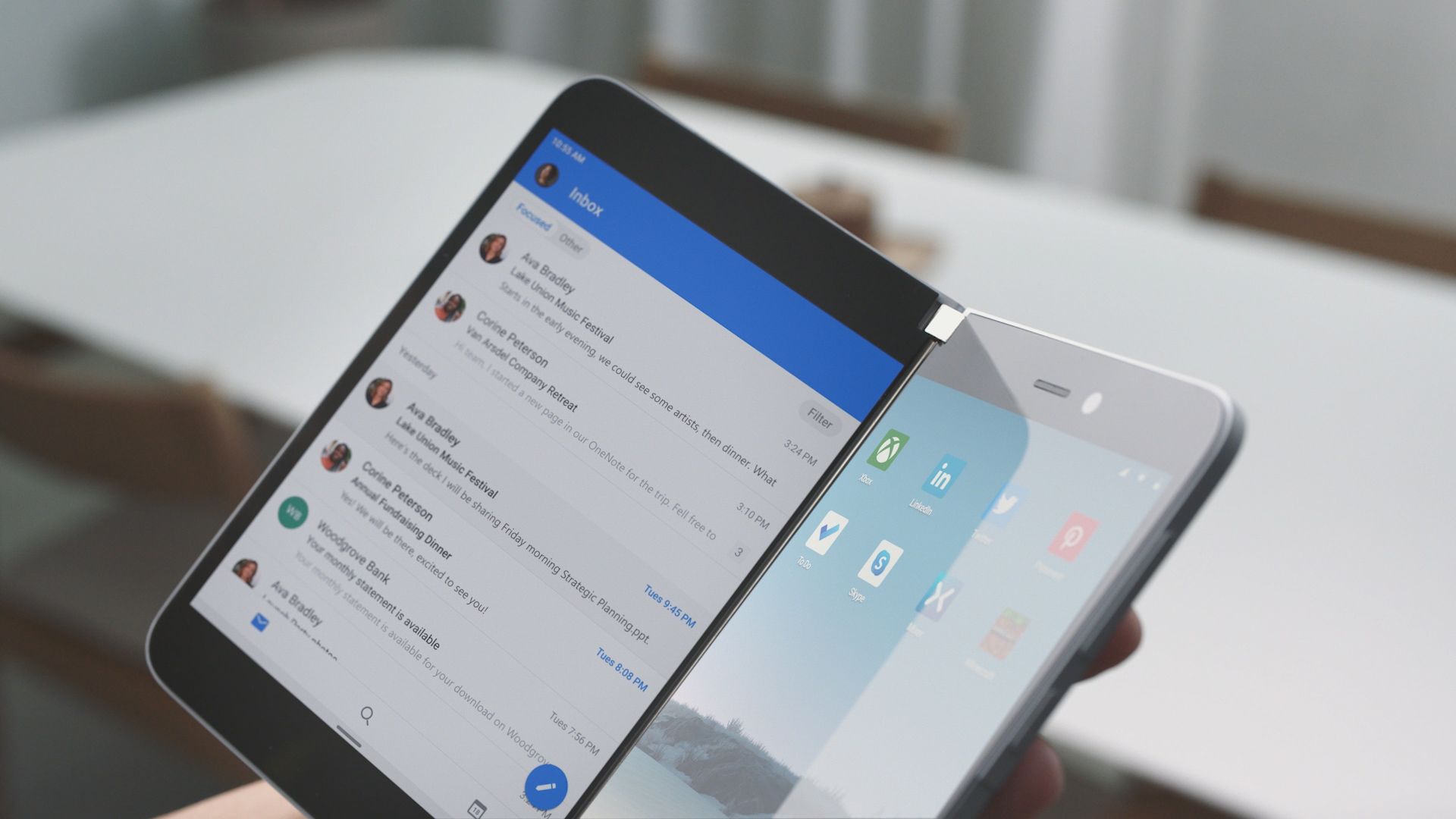 Efficient teamwork with Surface Duo
Surface devices are great for collaborative teamwork—and the Surface Duo matches these expecations perfectly. The two 5.6" PixelSense™ Touchscreen and 360° hinge enable you to simultaneously join a Microsoft Teams video call in Compose Mode while chatting with participants on the second screen. Or share a PowerPoint presentation during a Teams meeting and collaborate with your colleagues to optimise the slides via SharePoint during a call.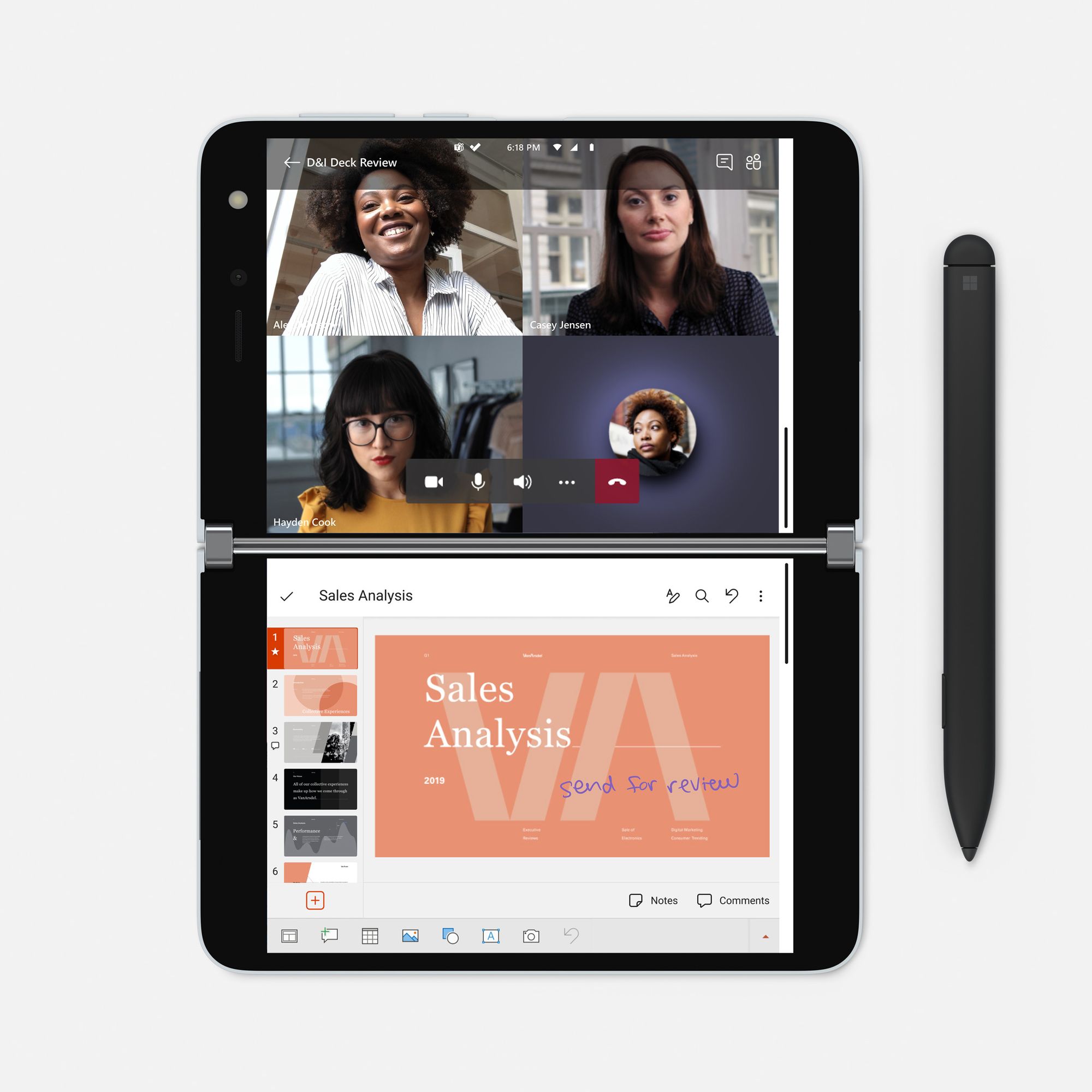 Take notes on the Surface Duo in your OneNote app during a team meeting with the Surface Slim Pen to share ideas with colleagues. Or, sign relevant documents with the Surface Slim Pen on the Surface Duo—the flexible 360° hinge adapts flexibly to your preferences.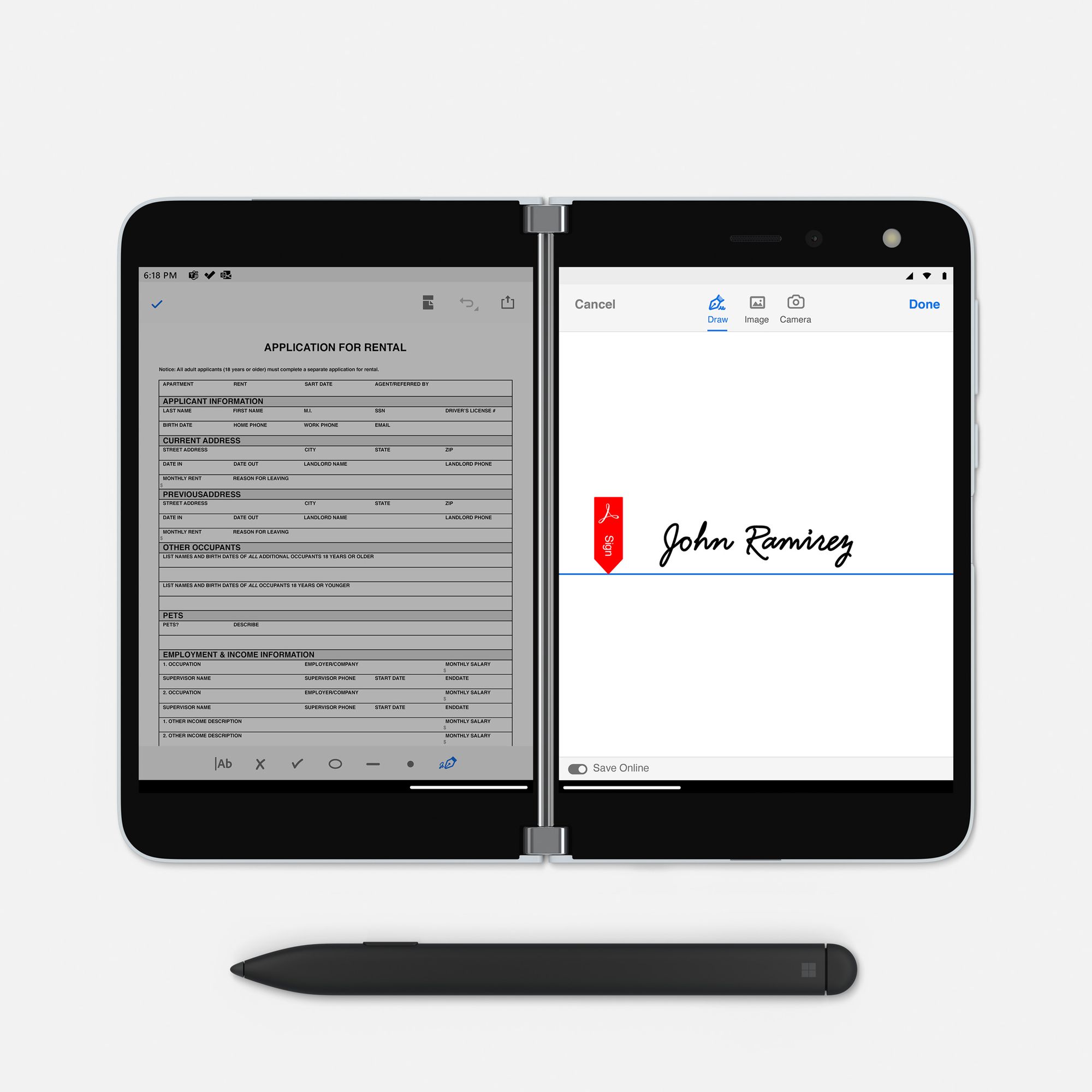 Structure your daily work routine with Microsoft apps on the Surface Duo
Surface devices and Microsoft 365 support you to structure your day of work and to organise your tasks as effectively as possible. Microsoft apps are optimised for the Surface Duo so that you can open the apps natively across both screens. Or you can use two different apps side by side in Book Mode and, for example, use the Drag & Drop function to move tasks from an email in Outlook directly into your Microsoft To Do app.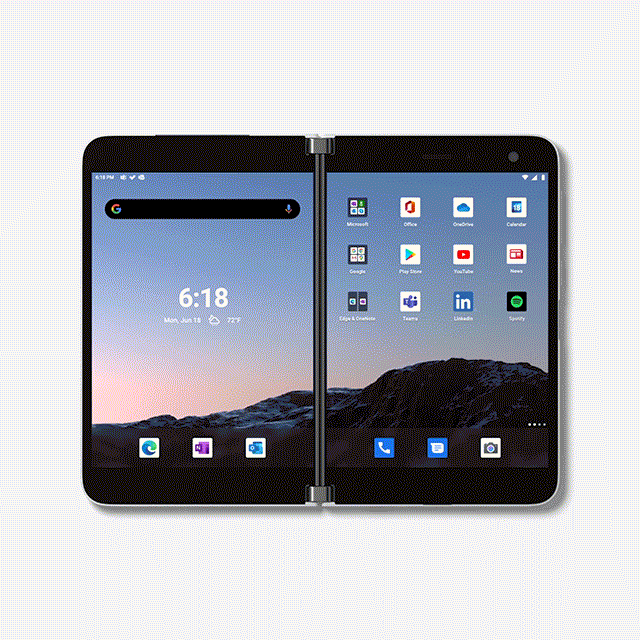 Working on documents is similarly no problem with the new member of the Surface Family: Complete your presentations in PowerPoint on the go by using Drag & Drop to implement different content, for example diagrams from an Excel sheet. Or work with the keyboard that automatically appears on the Surface Duo in Compose Mode to edit documents in Word. The Surface Duo recognises in which mode you want to use the device based on the rotation and adapts to it.
Balance business and personal life
With the Surface Duo you can perfectly realise your work-life balance: read news in the morning in Compose Mode, call friends and family, watch videos in Tent Mode, or listen to music for focus and podcasts for inspiration. You can also, for example, scroll through a recipe on a website in Book Mode on the left screen, while creating an related shopping list in Microsoft To Do on the right screen.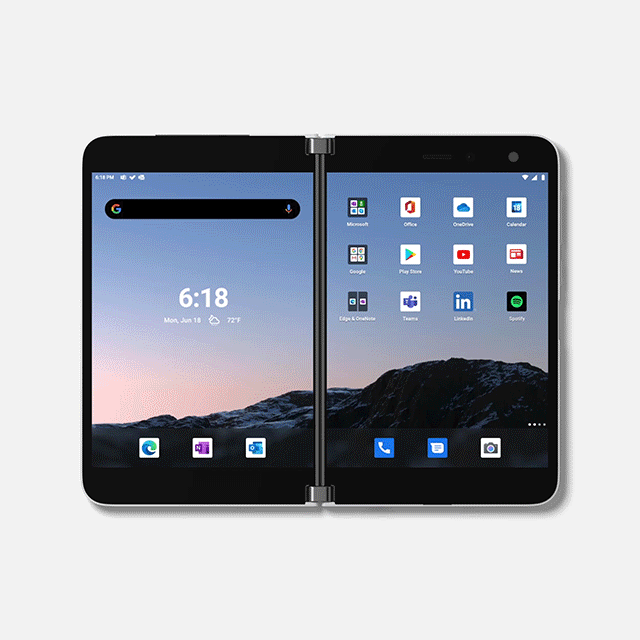 Photographs and videos can also be taken in high resolution with the Surface Duo and its adaptive camera with 11 megapixels, 84.0° diagonal angle of view and AI optimisation for front and rear camera. Various image programs from the Play Store offer multiple ways to immediately edit your photos.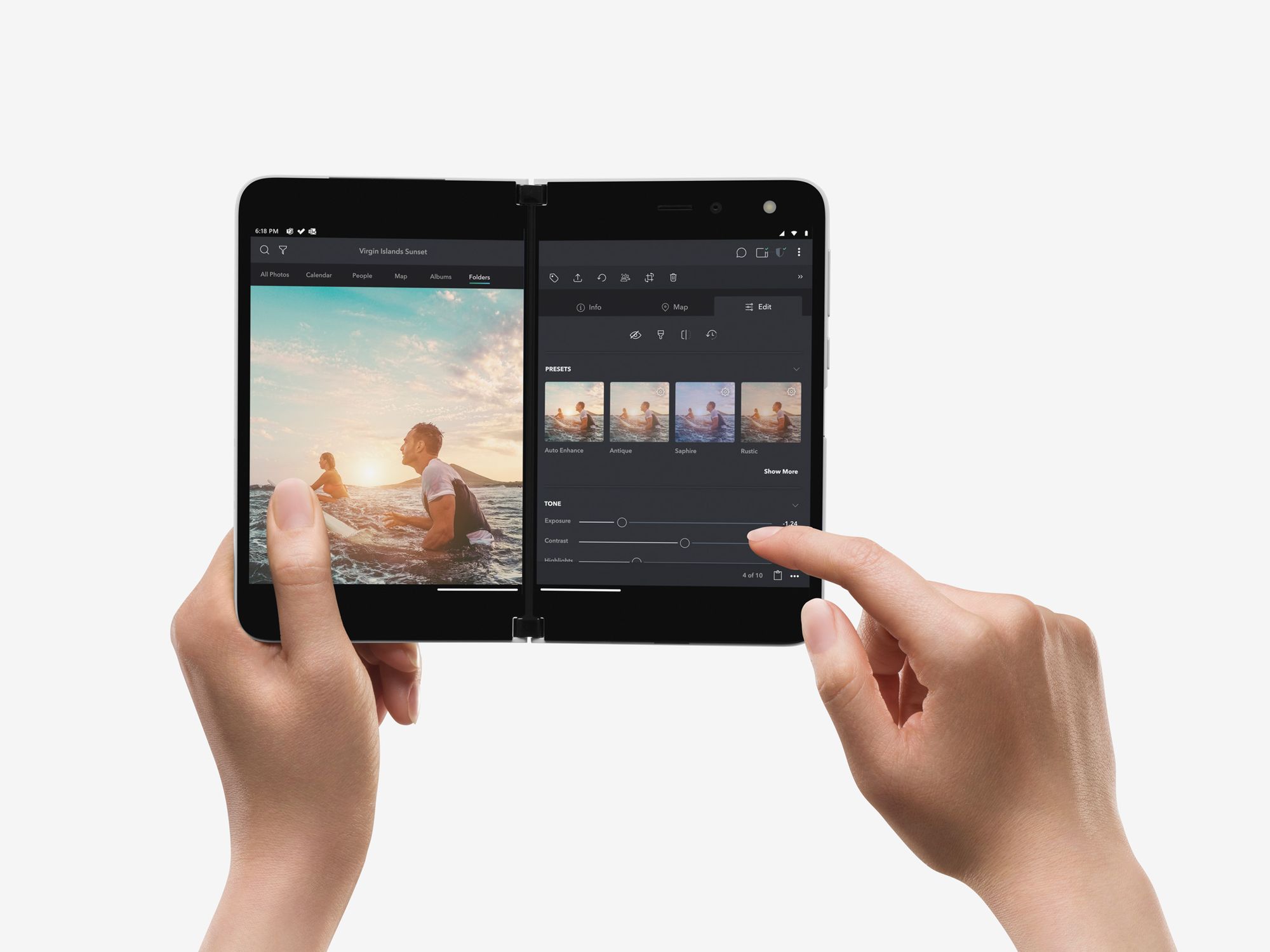 Surface Duo supports the way you work
Whether you travel a lot for work or just like to have a Surface in a more compact size with you: The Surface Duo accompanies and supports you in your individual way of working and is ready for use in a wide range of industries: Whether for a CEO or consultant, employees in sales or in healthcare or any other team member— wherever and whenever you want to stay connected remotely, need to access documents quickly on the go or want to share content with colleagues in real time, the Surface Duo comes in handy with a battery life of up to 27 hours of talk time.
---
Do you want to achieve the perfect work love balance? Create your individual #modernworkplace package with the Surface Duo on Surface.Love now and discover new possibilities for productive work. If you have any questions about the Surface Duo, please contact our Surface Experts at +44 207039-1515 or send an email to sales.uk@surface.love.