Now more than ever, Microsoft is pushing the boundaries of what we consider the common way of working. At the Microsoft Live Event on 22nd September 2021, not only one but eight new products have been presented. What we can already promise now is that they will make our everyday digital routines smarter and more intuitive and push the #modernworkplace to a new, better and more productive level.
In this blogpost we are introducing to you the newly announced Surface devices. Stay tuned for more details and announcements regarding these devices on our blog as well as our LinkedIn profile.
The wait is over: Two-in-One Surface Pro 8 is more powerful than ever
Still, the new Surface Pro 8 is combining the power of a laptop with the flexibility of a tablet. However, the new device is offering over 43% more compute power and 75% faster graphics than Surface Pro 7 thanks to its innovative thermo design keeping the device thin, light and productive. Equipped with a quad-core 11th Gen Intel processor, Surface Pro 8 is offering perfect performance. With a battery life of up to 16 hours, studio microphones and front-facing camera, plus Dolby Atmos creating immersive sound and the fully adjustable full range kickstand, working with a device has never been more fun and natural while offering such computing capacities. The high resolution 13-inch display, with over 5.5 million pixels and super thin bezels, includes Dolby Vision and a plus 120 Hertz refresh rate uses adaptive colour technology for the first time making your way of working even more natural.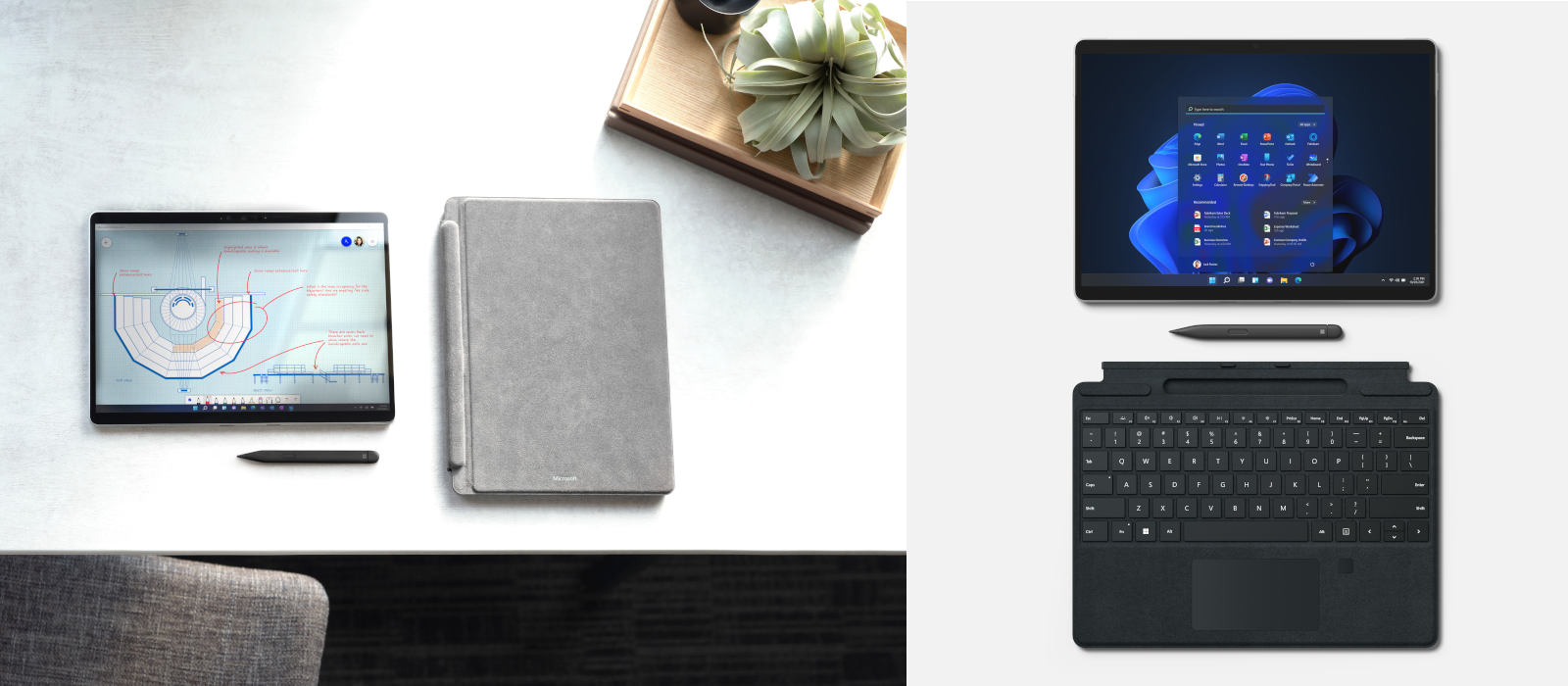 The new Surface Slim Pen is stored magnetically in the Surface Pro 8 Keyboard
The Microsoft G6 processor plus Windows 11 make the new Slim Pen experience more natural than ever before. When picking up the Slim Pen, Windows 11 automatically opens up a customisable Pen Menu that helps to get into the flow immediately. Also, the new Slim Pen sends tiny mechanical vibrations while using it. These tactile signals mimic the feel of a real pen of paper making our way of working more naturally. Overall, the experience with the new Slim Pen is smoother and more accurate than before. To always be ready and prepared when inspiration strikes or you need to get started, the new Slim Pen is also integrated into the new Surface Pro 8 Signature Keyboard. It is stored magnetically above the keys, charged and at any time ready for use.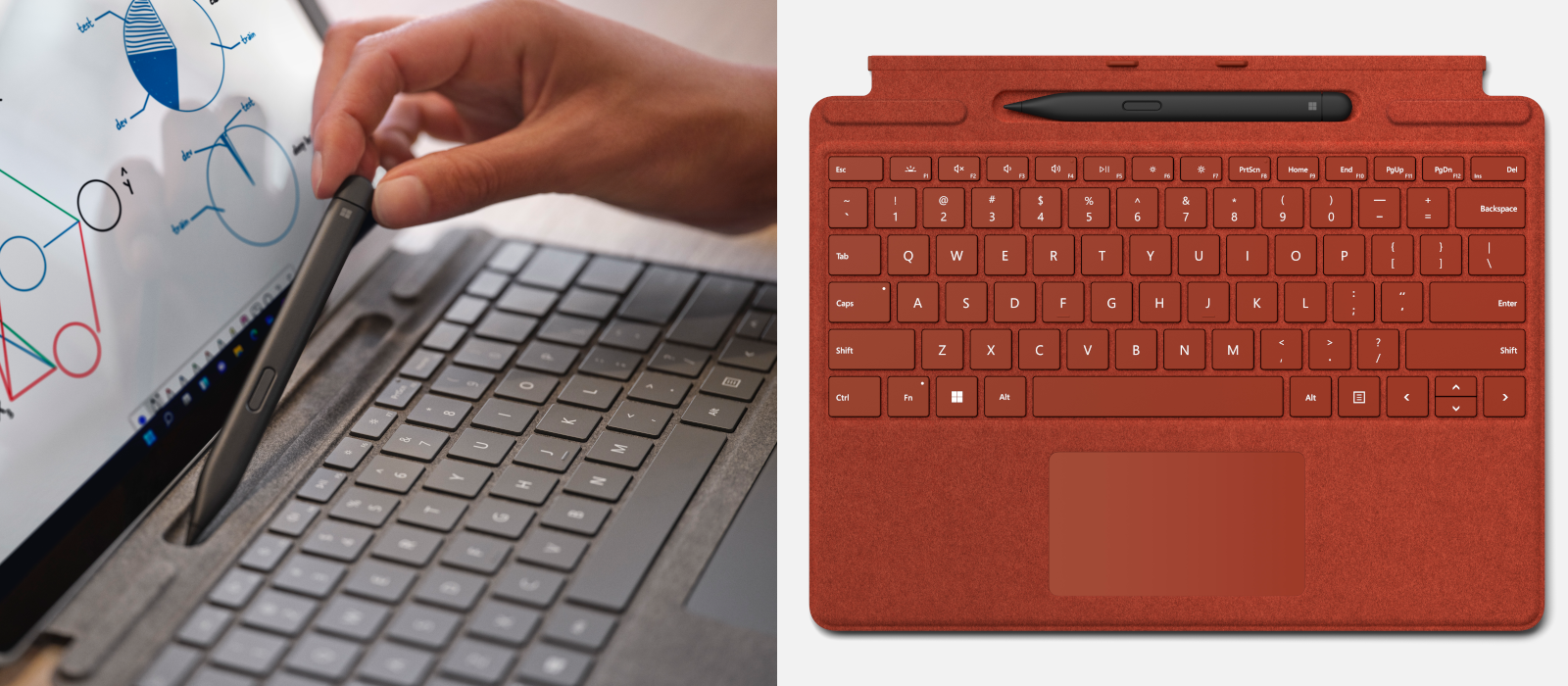 Surface Go 3 is becoming faster with a new processor
A 10th generation Intel Core processor is making the new Go 3 device about 60% faster than the previous version of the device. With unchanged form factor of a 10.5-inch screen including 1920 x 1280 pixel, up to 11 hours of battery life plus optional LTE, the experience of Surface Go 3 is created for an intuitive use. Designed and manufactured for Windows 11, the Surface Go 3 is becoming more natural and intuitive while using, especially for kids. For instance, Kids Mode in Windows Edge opens up a kids friendly environment and safety limits which tracks screen time are important features for a mobile device that is often used for younger generation.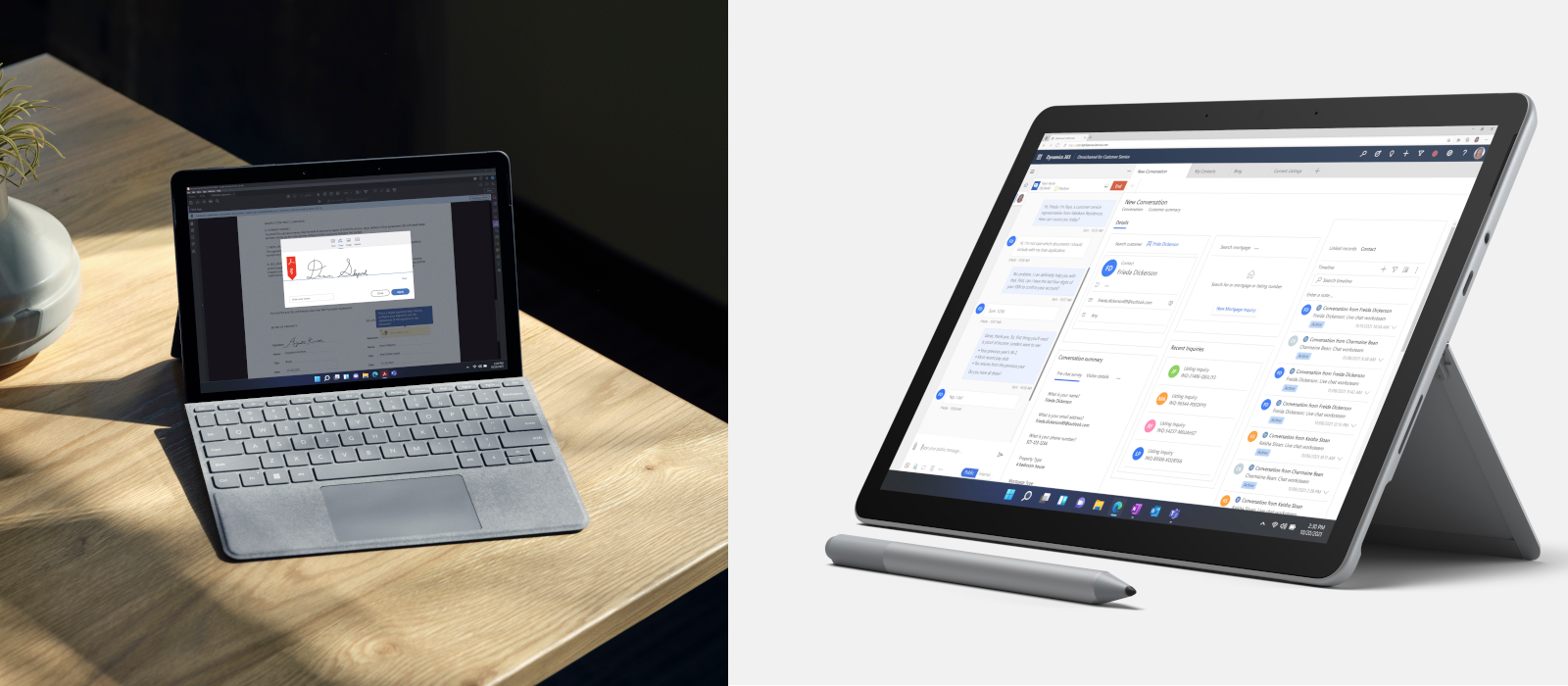 Surface Adaptive Kit helps to make Surface devices more accessible for everyone
With every launch, product or software update Microsoft aims to make their products inclusive by design. By aiming to empower every person and every organisation to achieve more, they try to include everyone and thereby making devices easily accessible for people with disabilities. The new Surface Adaptive Kit is a big part of this process. It includes a variety of textured decals to identify keys, ports or labels, plus a hook for a lanyard making it easier to open up a laptop or convertible. The included stickers have different shapes, colours with high contrasts and are easy to feel and distinguish and can help to locate different keys, find a specific laptop port or attach other devices or chargers. The Surface Adaptive Kit can be used to make any Surface device more accessible.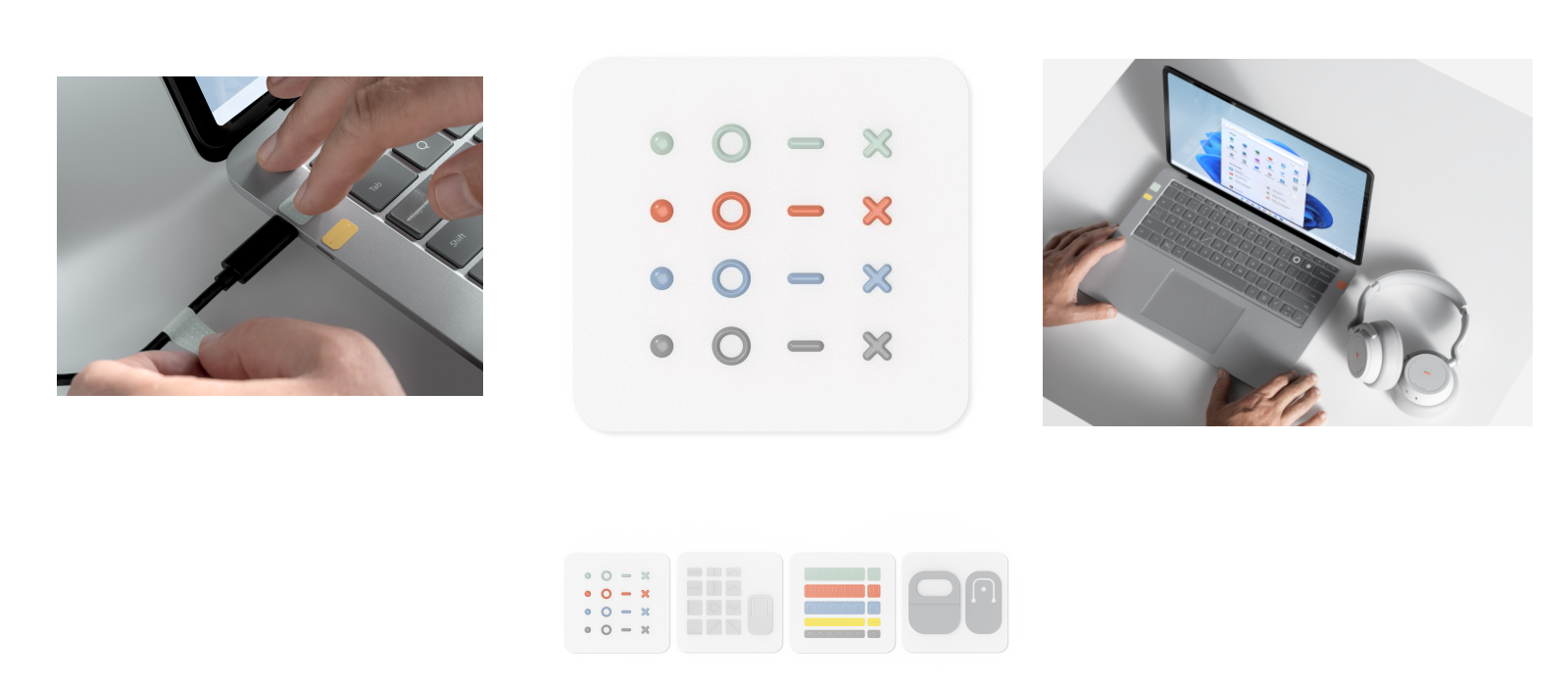 Surface Duo 2, the most dynamic mobile device ever
For the new Surface Duo 2, the revolutionary hinge is still creating the amazing Surface Duo experience, connecting the two PixelSense displays to an 8,3" Pixel Sense Fusion Display with up to 90 Hertz refresh rates. Inside of the device, a Qualcomm ® Snapdragon TM 888 5G Mobile Platform processor is ensuring the incredible performance of this highly mobile dual-screen device. Including 5G, the Surface Duo 2 is created to be so much more: The new light bar on the side of the device is not only giving colour signals when receiving a call, but also showing the time or missed messages, Teams notifications and calls.
Made for Microsoft 365, the Surface Duo 2 can be connected to any Windows device, automatically synchronising notifications and other information and displaying them on the screen. Optically, the device has changed as well: Surface Duo 2 is thinner, has round edges and is covered in nano coded 3D glass. Plus, for the first time it is available not only in the known colour glacier but also in elegant obsidian. The new dynamic triple lens camera is the much-needed addition to a device pushing and empowering multi-tasking. Including an ultra-wide (16 MP, f/2.2) wide (12MP, f/1.7, OIS) and telephoto lens (12MP, f/2.4; OIS) several types of photos can be taken with Surface Duo 2, edited immediately on the devices and moved or send out by using drag and drop.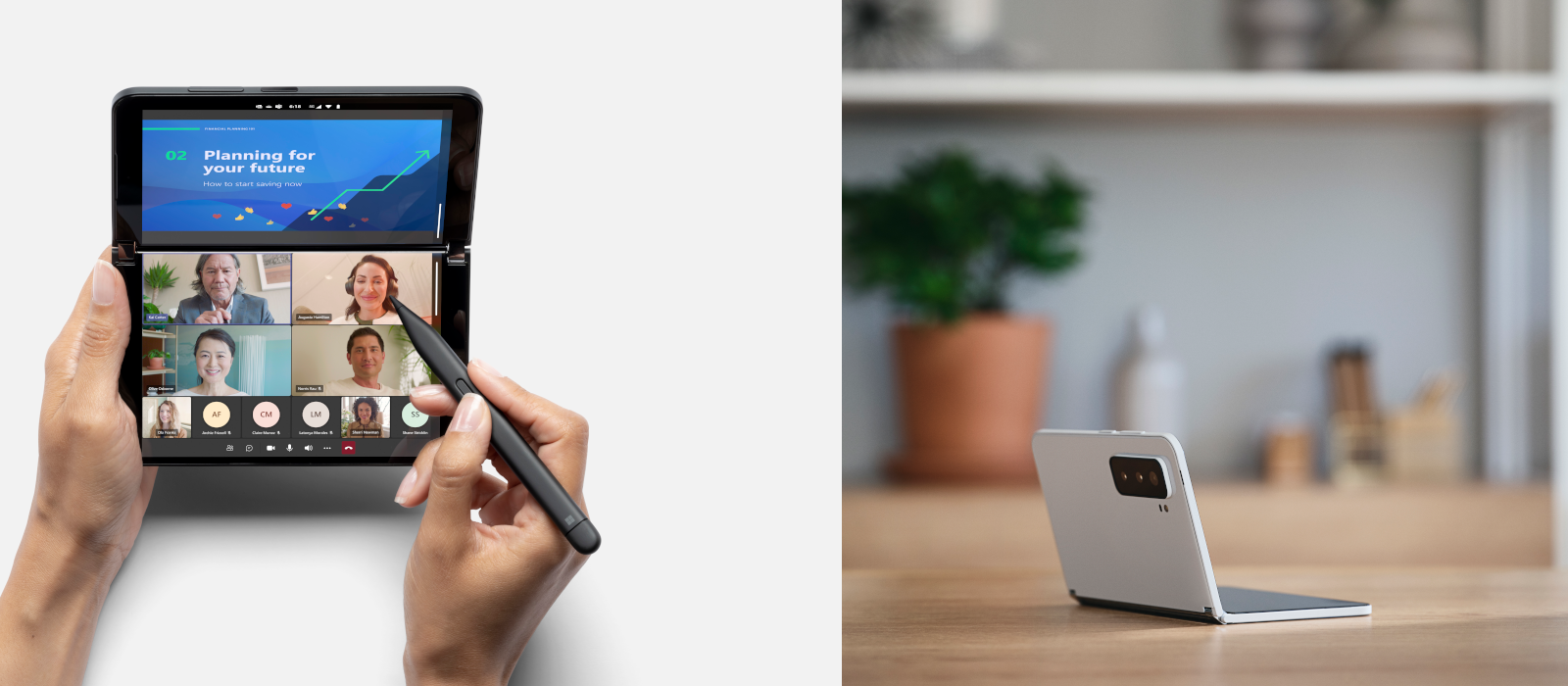 Microsoft Ocean Plastic Mouse: A crucial step on Microsoft's sustainability journey
The shell of the new Microsoft Ocean Plastic Mouse is made of 20% recycled ocean plastic which had been removed from the sea, cleaned and made into the shell of mouse. By including what was previously considered as waste, Microsoft is giving old plastics a new function and simultaneously removing the amount of waste in our precious oceans. From a technical perspective, the Microsoft Ocean Plastic Mouse can be paired with any Windows device via Bluetooth ® 5.0 LTE. Further, on single AA battery is ensuring up to 12 months of battery life for this new input device.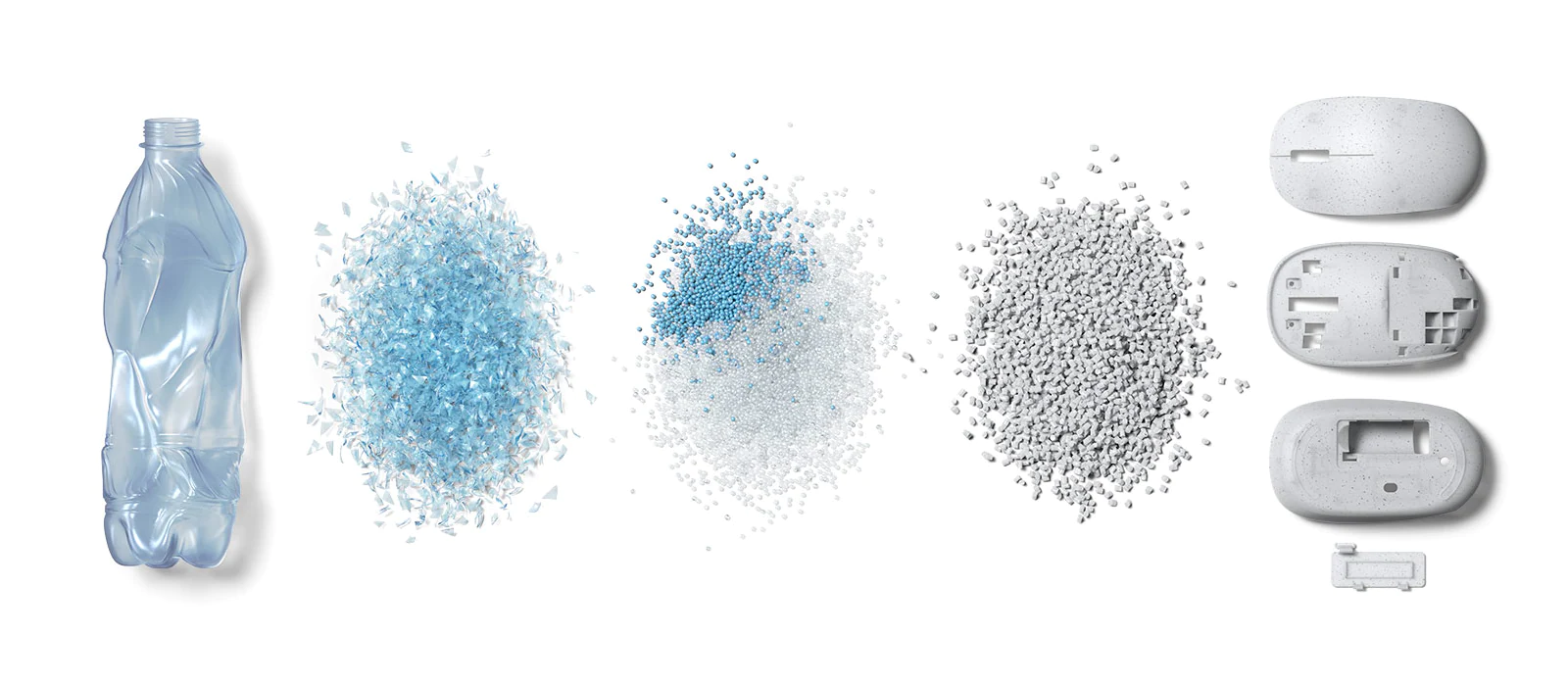 Welcome the most powerful Surface ever: Surface Laptop Studio
As an entirely new device, including a new form factor, the Surface Laptop Studio has been manufactured to be the most powerful Surface ever. The NVIDIA GeForce RTX 3050 Ti is ensuring ultra-powerful graphics while a Quad Core 11th Gen Intel processor is creating incredible computing power. Including an industry-leading thermal design and high-speed Thunderbolt 4, the Surface Laptop Studio is offering much more than any other mobile and highly performant device. The vibrant 14.4" PixelSense touchscreen is just one of the features creating the ultimate Surface experience. Omnisonic Speakers with Dolby Atmos offer impressive sound that make working with videos, watching shows, gaming or having video calls such so much more natural and enjoyable. The AI Powered Smart Camera optimises exposure and lightning and is thereby again, making the Surface Laptop Studio stand out from the crowd.
The precision haptic touchpad is creating an easy and smooth way of working and is optimised for Windows 11 gestures. In addition to the exciting technological features of the Surface Laptop Studio, it includes three impressive modes so that the device perfectly adapts to your workflow: Besides the Laptop Mode, the device can be put into Stage Mode covering the keyboard partly by moving the screen a closer to you. By moving the screen even further, the mode is changed to Studio Mode. While Stage Mode is designed for presentation, watching videos or similar, Studio Mode is designed for drawing, sketching, editing and overall being created. As a final feature, the Slim Pen is magnetically attached underneath the Surface Laptop Studio where it is automatically charged and always ready to be used.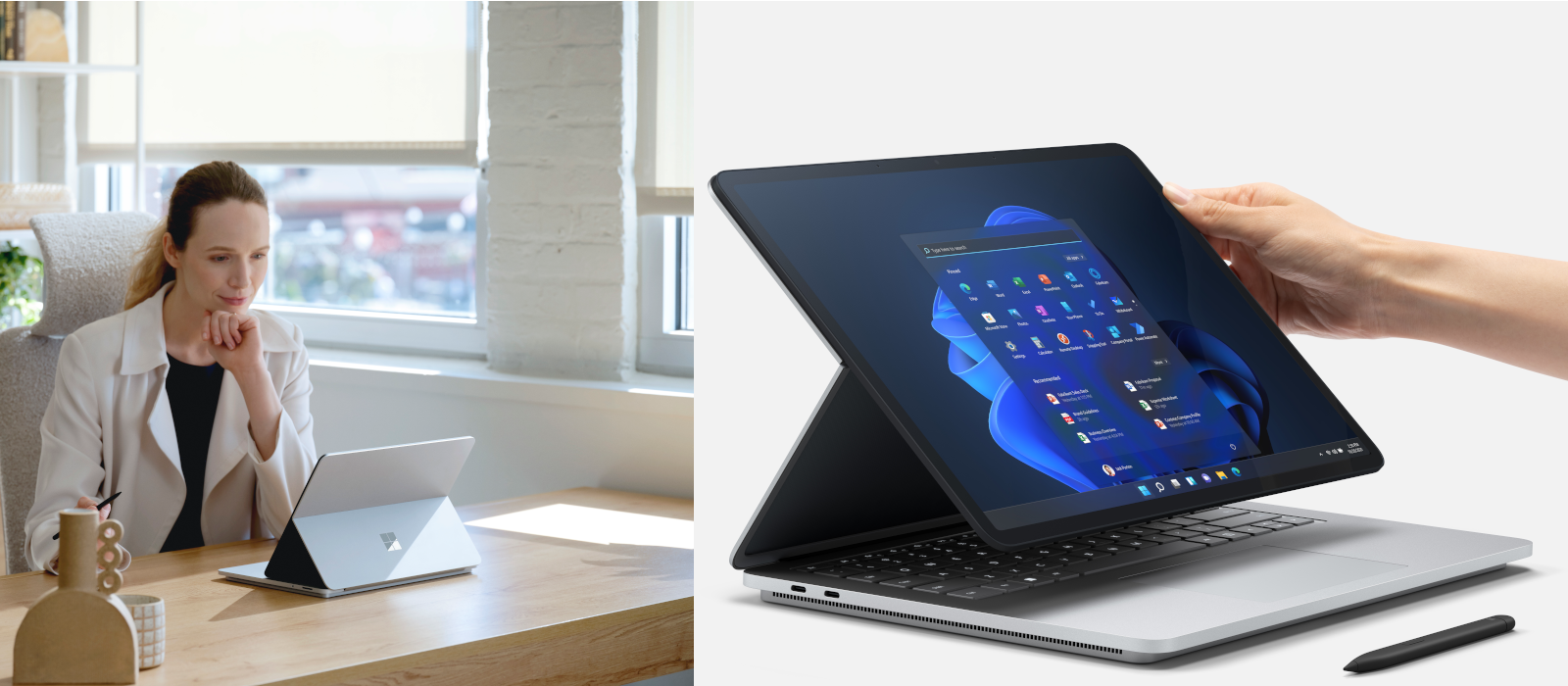 ---
Now, are you as excited as we are for these new devices? We can't wait to see many #modernworkplaces created around these or including these devices. Launch starting from early October, the new Surface devices will be available for you very soon.
If you want to create your own #modernworkplace with Surface devices, Windows 11 and Microsoft 365, please visit our website or contact our Surface Experts for individual support by calling +44 207039-1515  or sending an email to sales.uk@surface.love. #worklovebalance.