Microsoft Whiteboard is a virtual, digital board on which students and teachers can work together in real time, sketch ideas, work on tasks and take notes together. Included in Office 365 Education, Microsoft Whiteboard is part of the equipment of every educational institution establishing digital learning. In this blog post, we will show you what features are included in Microsoft Whiteboard.
Individualising the Microsoft Whiteboard
In order to be able to adapt the respective Microsoft Whiteboard to a subject or simply personal preferences, the Microsoft Whiteboard can be individualised with various settings. At first, background colour and pattern can be adjusted. Among others, in addition to the classic plain white background, small squares for maths lessons or lines for better writing and note-taking can be selected. Furthermore, settings such as "freehand in shape", "freehand in table" or automatic "object alignment" can be used to ensure that shapes, tables and other content are optimised.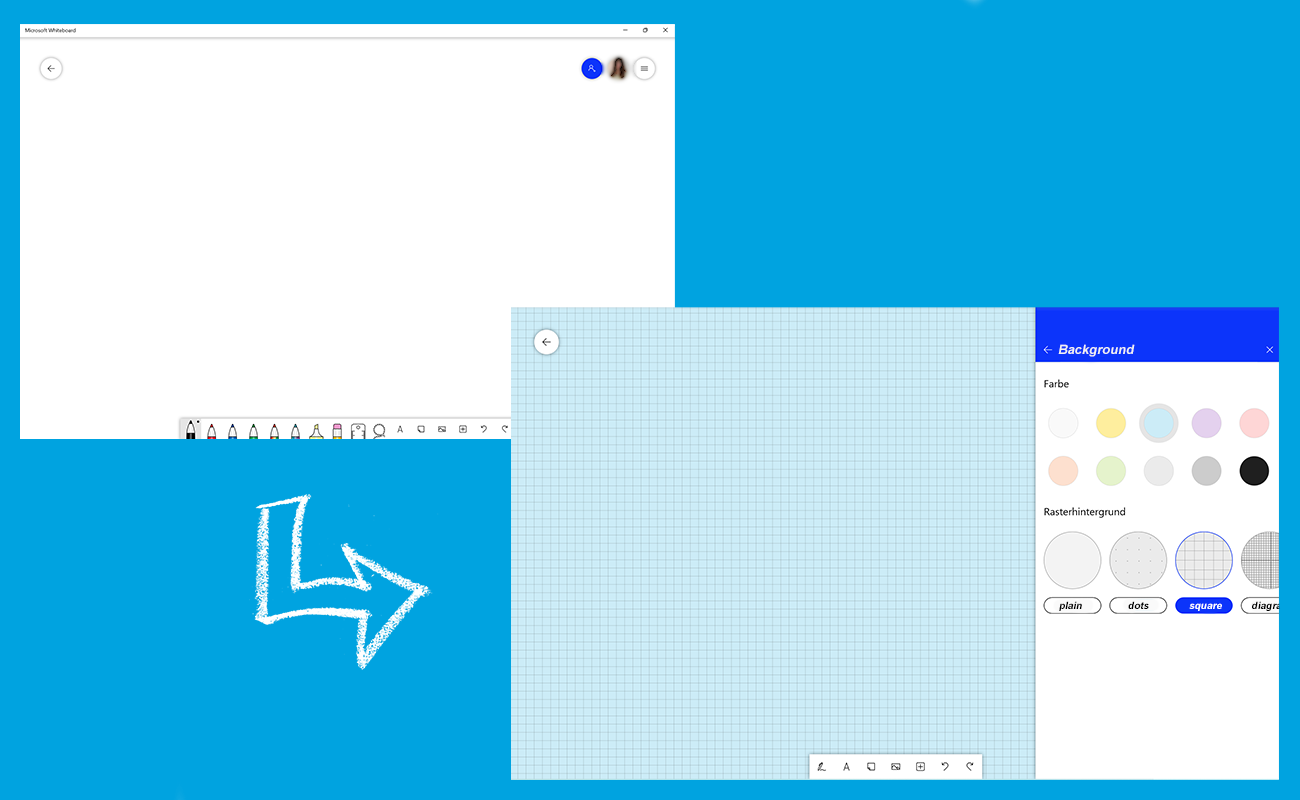 Various tools ensure intuitive use
Microsoft Whiteboard provides a selection of different tools for easy and intuitive use in everyday education. A selection of pens with variable pen thicknesses allows for a creative and diverse drafting of the different whiteboards. With the help of the integrated ruler, digital drawings can be created very accurately thanks to the integrated angle measurement function, e.g., in maths lessons. The sticky notes, which can also be customised in terms of colour, enable students to add notes and content later or brainstorm together. Thanks to the "ink beautification" function, handwritten notes are automatically converted to make them more legible.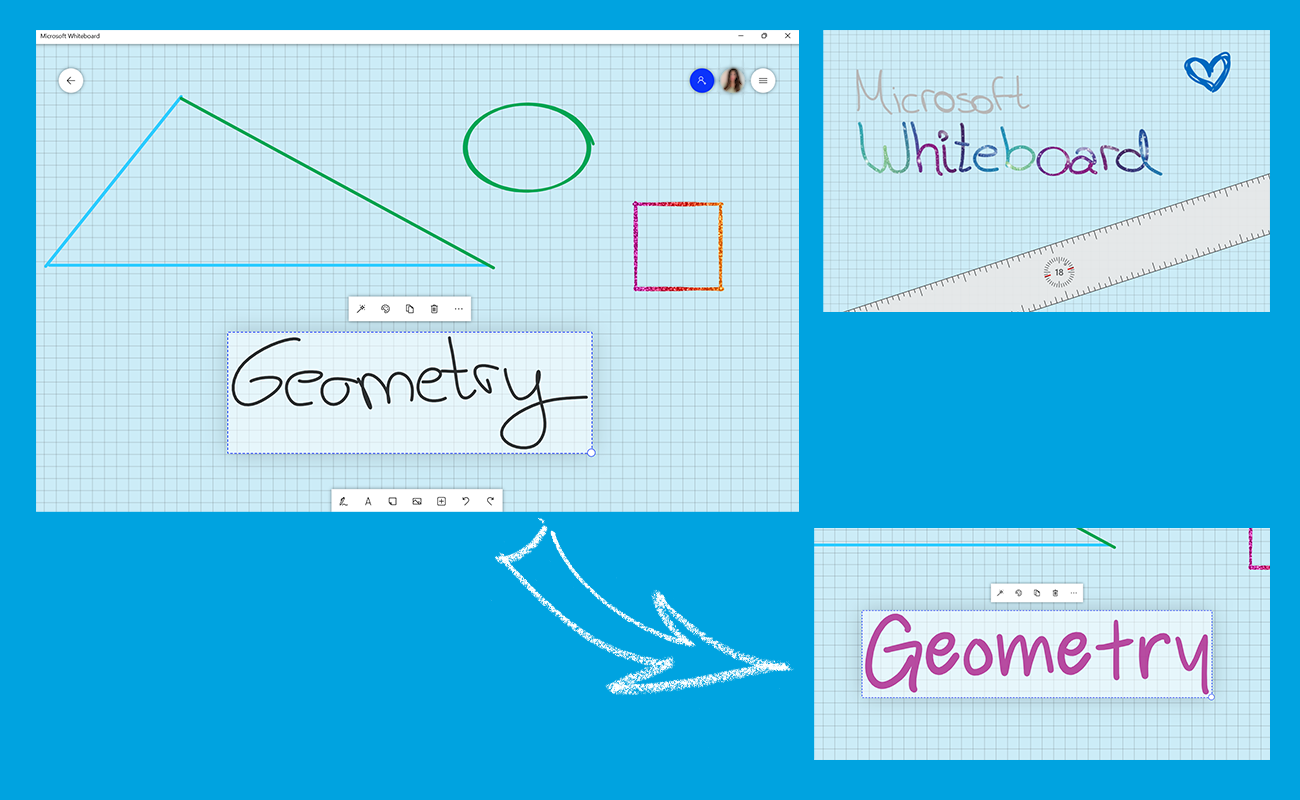 Multiple options for inserting and editing images
There are three ways to insert images on a whiteboard: Firstly, images can be inserted from the library of the respective device. In addition, the integrated Bing image search function can be used to directly search for and integrate the appropriate image from the internet. There is also the option of taking pictures directly with the camera and inserting them into the whiteboard. In research projects, for example, students can take photos of intermediate results directly with their tablet camera, such as on the Surface Go or Surface Pro, and insert and edit them in a protocol on their whiteboard. Microsoft Whiteboard recognises all notes made on an image in Whiteboard as such. In case teachers or students want to reorganise a whiteboard, the images can then be moved or rearranged with the entire notes with just one click.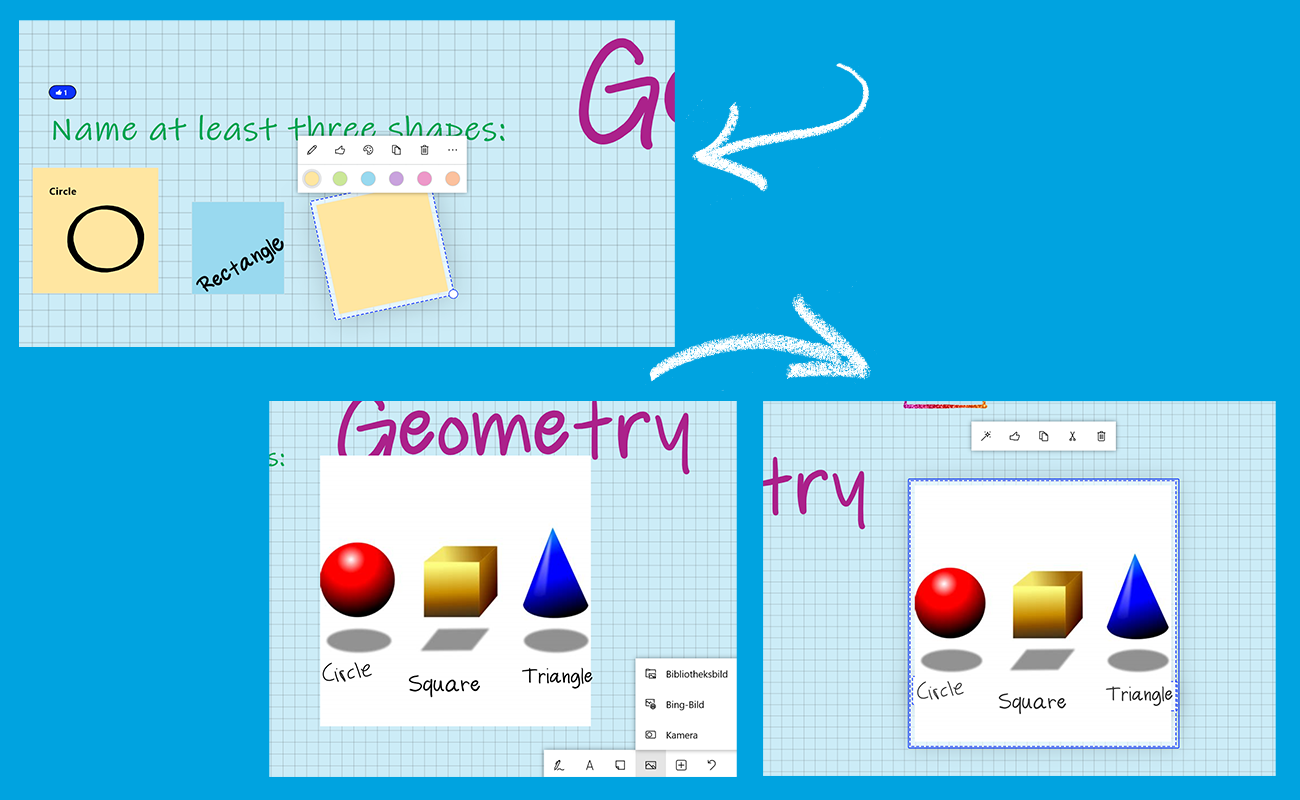 Continue working with inserted documents in the Whiteboard
In addition to notes and images, Microsoft Whiteboard also offers the option of inserting entire files or individual pages from PowerPoint, Word documents or PDFs. Teachers and students can thus continue to work on the whiteboard based on given content, add information and work out additional content. All text, handwritten notes, images, documents and other content in Microsoft Whiteboard can be moved and rearranged at any time.
Whiteboards can be shared as desired using the sharing function. The person sharing the whiteboard can decide whether other people can only view the whiteboard or whether they can also actively edit it. In this way, content that has been worked out in class can be shared for learning, or students can be invited to work together. In addition, it is also possible to work together remotely in Whiteboard via Microsoft Teams and to exchange ideas in parallel.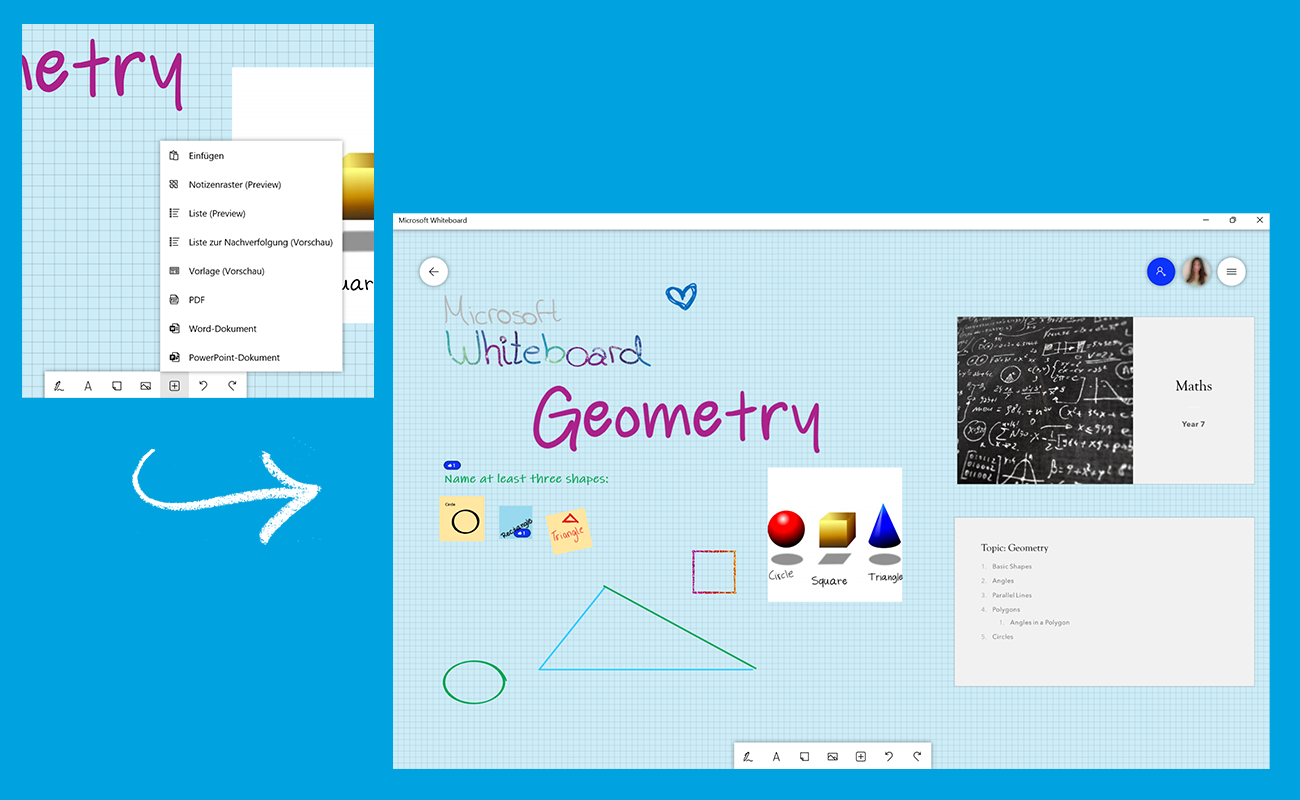 ---
Want to learn more about digital education opportunities with Microsoft Surface and Office 365 Education? Feel free to contact our team on +44 207039-1515 or education@surface.love with any questions about quick implementations on digital home-schooling opportunities, free licences or devices in affordable monthly financing options for your educational institution.