The Complete Overview Of Surface Hub 2S
Bring your hybrid office together on one screen with the ultimate tool for dynamic teamwork. When companies provide opportunities for collaboration everyone benefits!
Read below to discover how the Surface Hub 2S creates space for innovation, unity, and all-around greater efficiency.
---
Optimized teamwork in large meeting rooms
The Surface Hub 2S is available in a 50" or 85" version to accommodate room size and use. Both offer superior interaction space compared to smaller devices – perfect for larger conference rooms. Get ready for optimized on-site collaboration. Hold presentations via Microsoft Teams for all to see, even remote workers. The Surface Hub 2S is also the perfect solution for creative collaboration to bring new ideas to life, e.g. with Microsoft Whiteboard.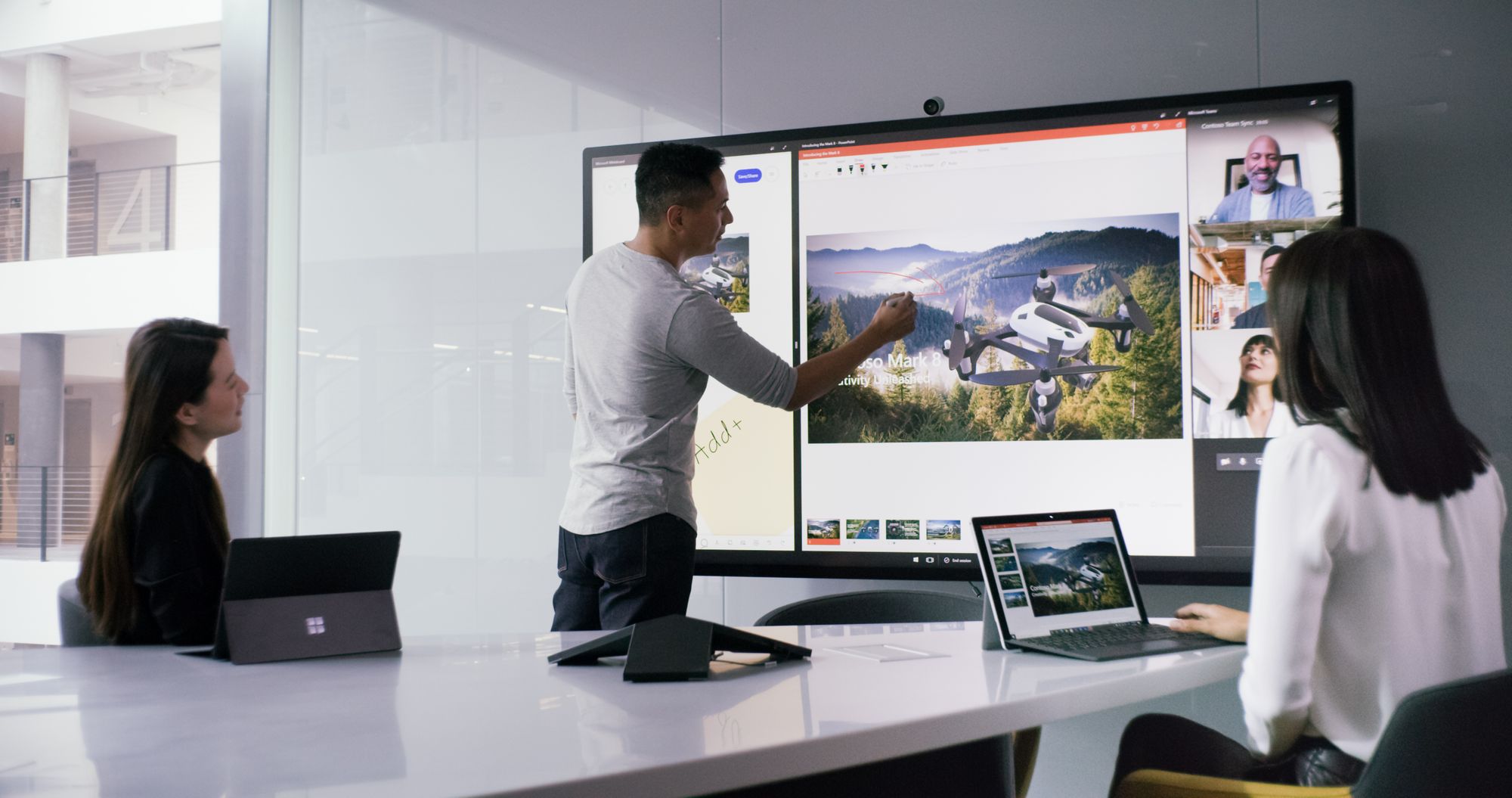 Also for hybrid solutions, when some colleagues participate in meetings in home office and individual team members are on site at the office, the Surface Hub 2S is the tool for productive collaboration. For example, users can sign in to the Surface Hub 2S with their Microsoft account and access their files directly through Microsoft Edge. Or they can invite the Surface Hub as a participant directly to a meeting and be able to collaborate together on the Surface Hub 2S with different end devices. Project employee devices, such as the Surface Laptop or Surface Pro, via Miracast onto the large display. Nothing gets in the way of collaborative (remote) work with the Surface Hub 2S models.
Technical details for seamless collaboration
The larger 85-inch model of the Surface Hub 2S weighs 84 kg and has dimensions of 44,5" x 77,1" x 3,4" (1130 mm x 1959 mm x 85.6 mm). A Quad-Core-8-Generation Intel® Core™ i5 processor with 8 GB RAM and 128 GB SSD is installed inside. In addition, the Surface Hub 2S 85" features Bluetooth® Wireless 5.0 technology. Of course, the 85-inch model also offers various ports, such as a Mini-DisplayPort Video Output, HDMI Video Input, and USB-A. Full band 8-element MEMS microphone array and 100Hz - 12KHz range 3-way stereo speakers ensure optimal call quality.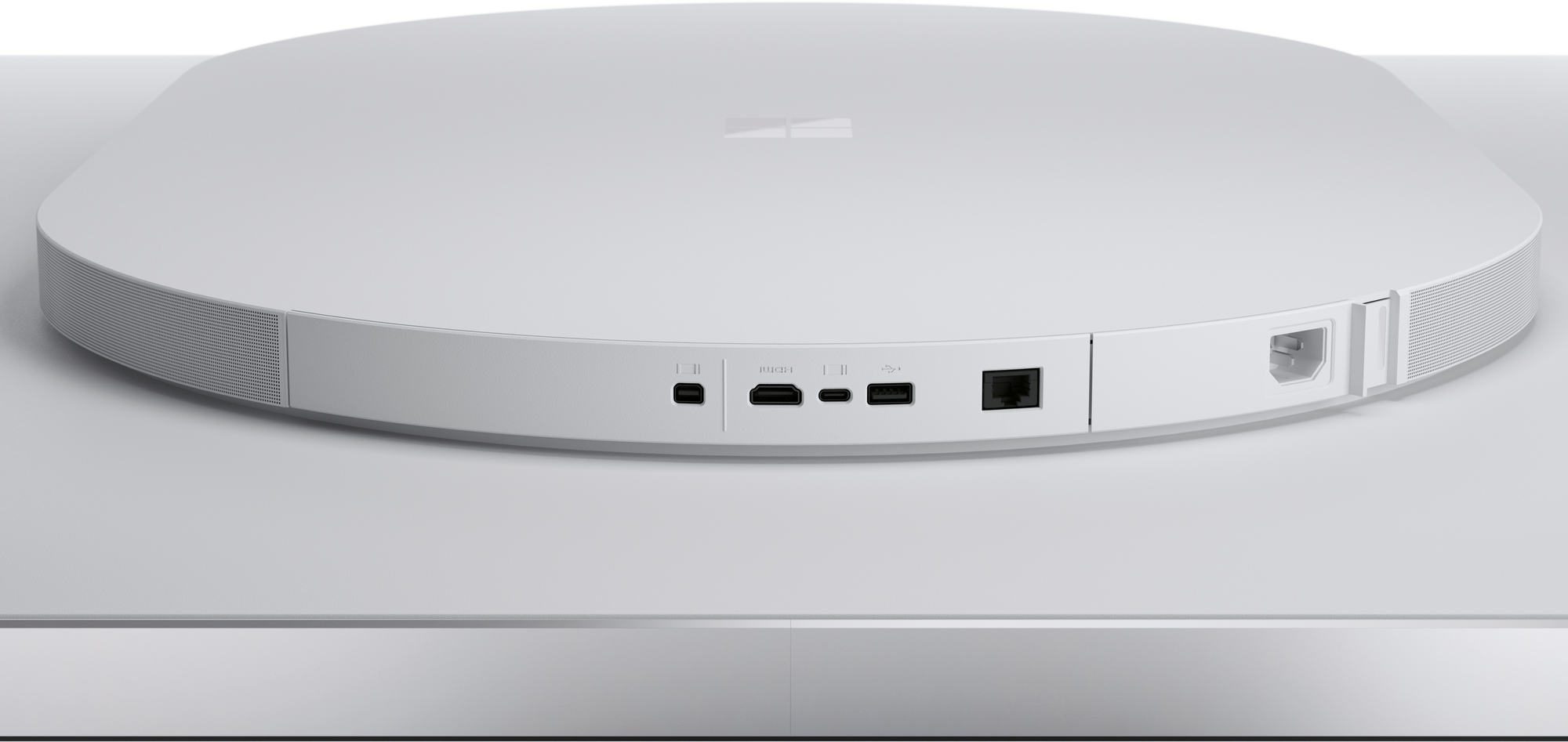 With 35 mm border width, an anti-glare finish, and in-Cell Touch with 20 simultaneous touch points, the display provides the centerpiece for interactive teamwork. The platinum-colored exterior is made of machine precision Aluminum with mineral-composite resin. The Surface Hub 2S features the Windows 10 Team operating system.
Suitable accessories complete the Surface Hub experience
The power cord extends from 3 meters to 4 meters for the larger Surface Hub 2S. Of course, the 85-inch model also comes with the Surface Hub 2 4K camera for interactive meetings. In addition, two Surface Hub 2 Pens are immediately included in the scope of delivery. Not included—but compatible—is the Surface Slim Pen.
For the larger Surface Hub 2S model, Microsoft Surface has once again collaborated with Steelcase® Roam™ to develop suitable mounts.
---
Visit our online store to build your #modernworkplace with the Surface Hub 2S or contact our sales team for a customised offer including accessories and services at: +44 207039-1515 and sales.uk@surface.love.
---
Comment below to share your experience with the Surface Hub 2S