The Surface Duo 2 was announced in September 2021 and launched in October later that same year. The smallest Surface device so far has been enhanced by Microsoft Surface with new technical features and adapts perfectly to individualized business routines. In this article, you will discover which technical innovations and practical features Surface Duo 2 offers for your daily tasks.
---
More productivity with larger displays and multiple modes
Surface Duo 2 offers a larger display range than the previous version with two 5.8-inch PixelSense™ Fusion AMOLED displays and a total screen size of 8.3 inches because of thinner side edges. Thanks to Corning® Gorilla® Glass Victus™, it is designed to be more resistant to drops and scratches. Despite the many new capabilities offered by the Surface Duo 2, the weight has increased from 250 to just 284 grams. With the same form factor and the 360° hinge, it can still be used in different modes.

Book Mode
With the Book Mode, content can be viewed side by side. This mode offers the possibility to work in two apps in parallel. While you attend a meeting on the left display, you can work on documents directly with team feedback on the right display.
Compose Mode
When Surface Duo 2 is used in Compose Mode, you can use the full virtual keyboard on one display of the device. While you join a Microsoft Teams meeting, you can share a presentation on the upper display and see the participants via video and chat with them on the display below.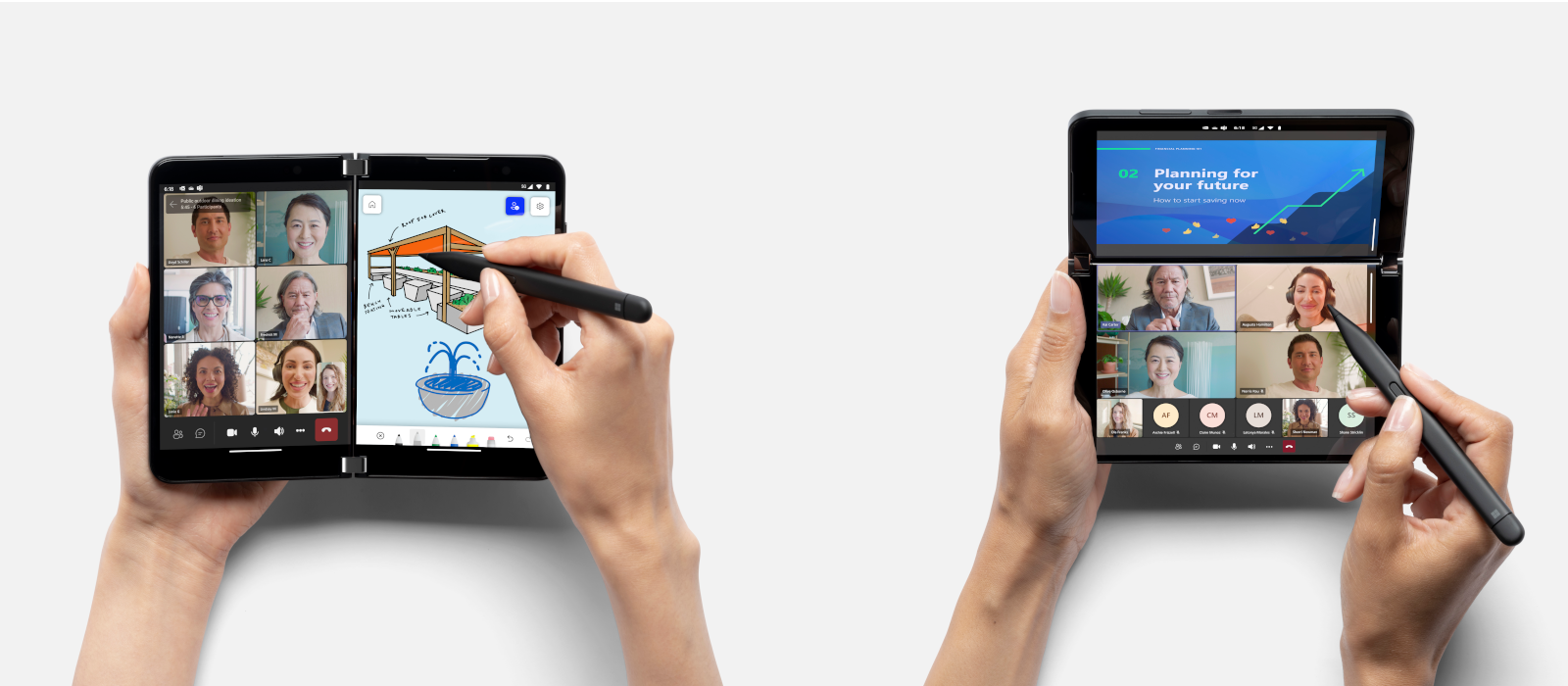 Dual Landscape
Mode With the Dual Landscape Mode, the content of an application can be viewed on both displays. This can be used for a better overview of the installed apps as well as for reading long articles, reports etc.
Tent Mode
You can use the Tent Mode when you participate at video conferences. Thanks to the 12 MP front camera, you can turn the focus on yourself. This mode is also suitable when you want to watch videos on YouTube or other apps.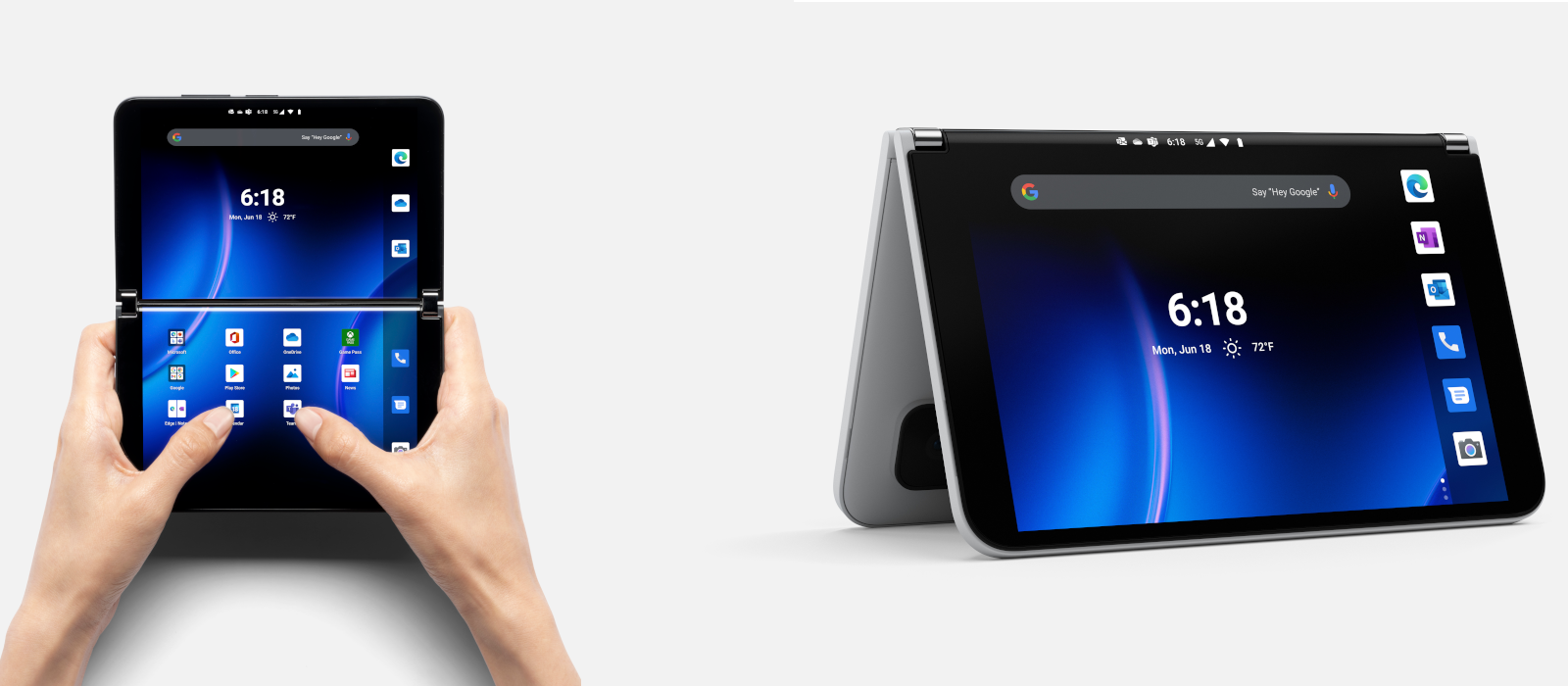 Single Screen Mode
The Single Screen Mode will let you operate the Surface Duo in a familiar smartphone mode with one hand. This mode is of course perfect for phone calls.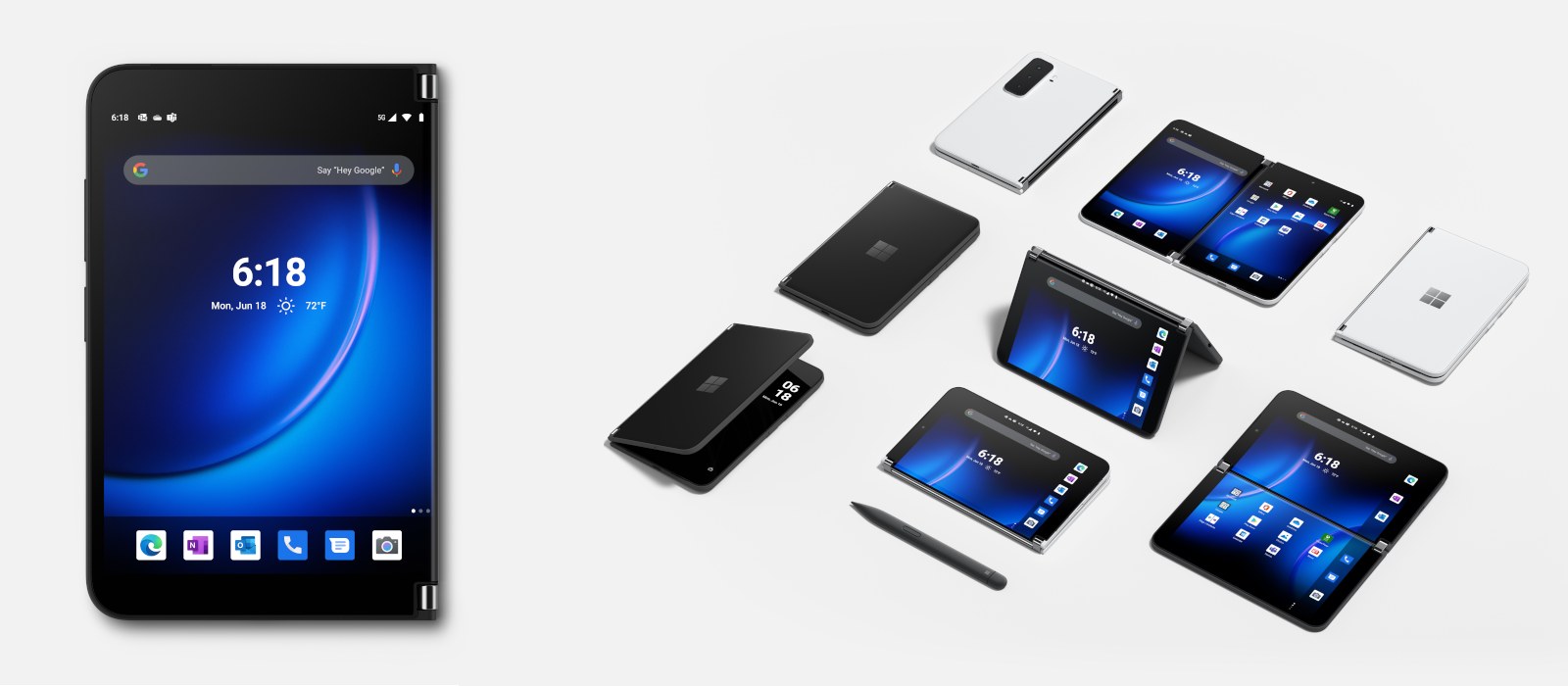 Take a look inside: processor, memory, security and exciting new features
Surface Duo 2 is equipped with a mobile Qualcomm® Snapdragon™ 888 5G processor, which  offers integrated 5G. Matching the powerful processor, Surface Duo 2 provides 8GB RAM. You can choose between 128GB, 256GB and now also 512GB in terms storage capacity. In addition, Surface Duo 2 offers NFC functionality, which enables secure contactless payments.

At the moment, the Surface Duo's installed operating system is Android™ 11, which allows you to work productively and seamlessly on your documents and projects with MS Office applications adapted to the operating system.

Another new feature is the Glance Bar, which currently offers the ability to display incoming calls, messages, the current volume, and the device's battery level.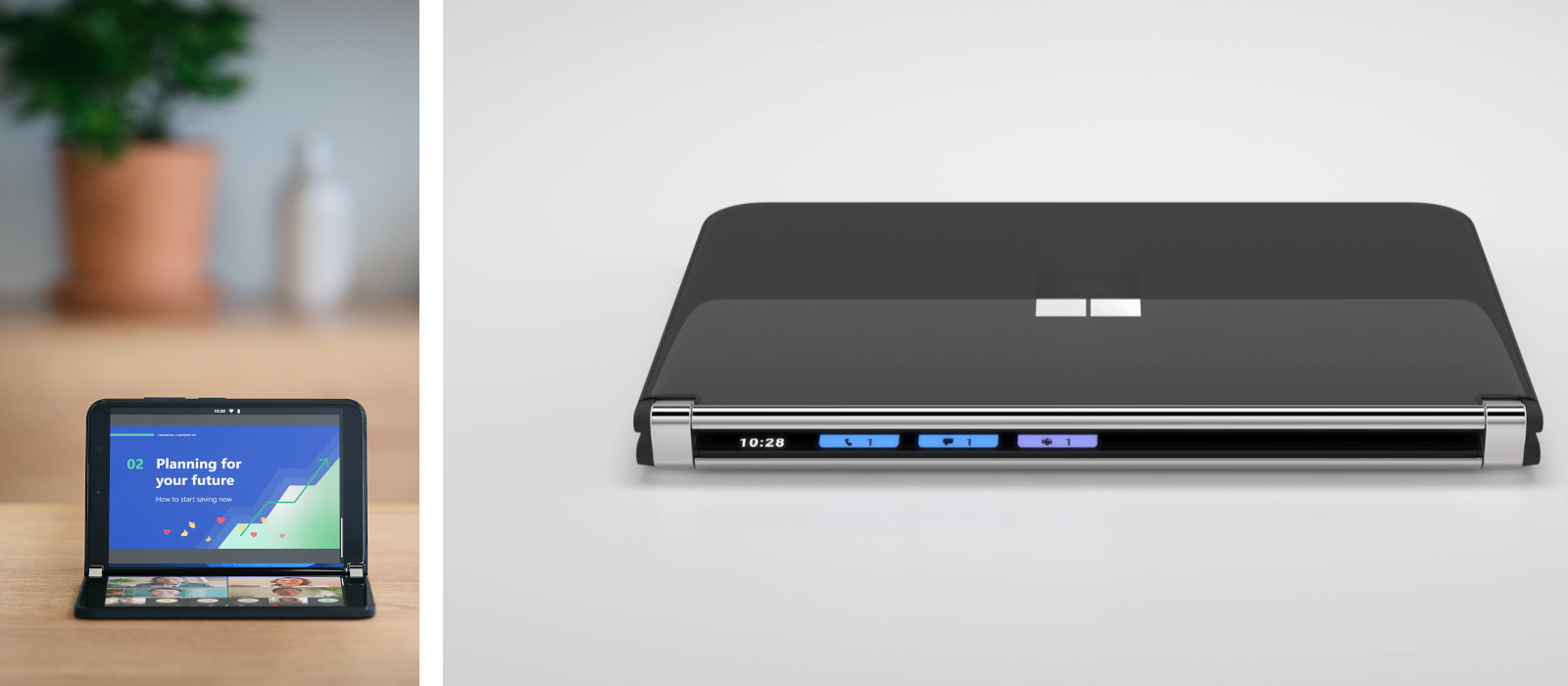 You can securely unlock the Surface Duo 2 with the Fingerprint sensor. In addition, a SIM card can naturally be inserted into the Surface Duo 2. It offers the possibility to be charged through a USB-C® port or to be connected to further equipment.



Explore more benefits: New creative and visual perspectives
Use Surface Duo 2 in combination with the Surface Slim Pen 2. As soon as you use the Surface Slim Pen to take notes on Surface Duo's display or make sketches, you have an almost identical feeling as if you were writing with a pen on paper. In addition, Surface Slim Pen 2 can be charged on Surface Duo 2's case.

The new dynamic triple lens rear-facing camera with three lenses also lets you rediscover visuality. A 12-megapixel main sensor, along with a 16-megapixel ultra-wide angle and the 12-megapixel telephoto lens, promises even 10x digital superzoom.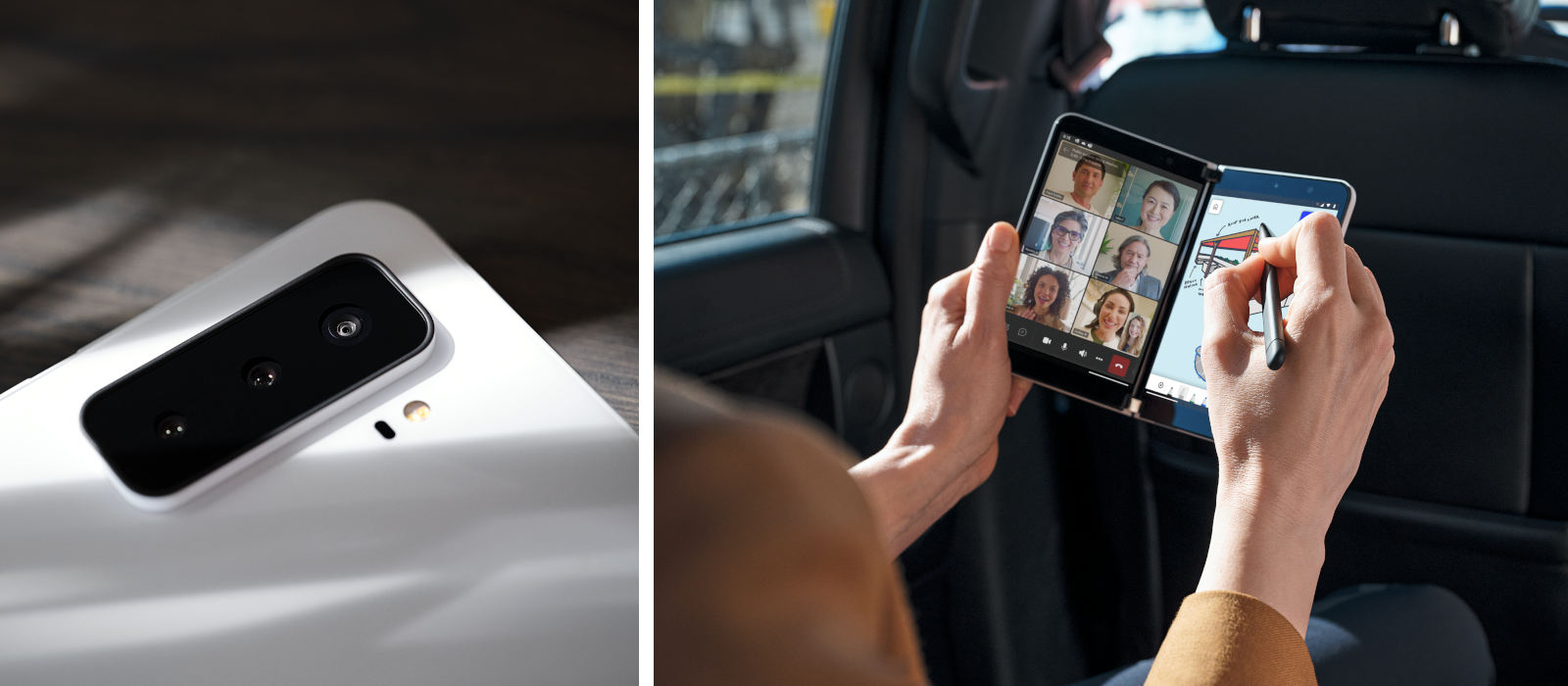 ---
Are you interested in the fascinating possibilities of using the Surface Duo 2?
Visit our webshop or contact our sales team for your individual Surface Duo 2 offer including accessories, licenses and support at +44 20 70391515 or send an email to: sales.uk@surface.love. Make our work love balance part of your everyday life.
---
‌Comment below to share your experience with the Surface Duo 2