In combination with the Surface devices Microsoft 365 offers a wide range of possibilities for how you can organise lessons in home schooling. In this article, we present our three favourite Microsoft applications and their advantages for a fast implementation of digital education.
The classroom bench: Microsoft Teams - Teach, Share, Communicate
The morning begins in the virtual classroom in Microsoft Teams. Within the application a classroom for each grade level can be created. We recommend, for example, naming these digital classrooms in Teams according to the enrolment year of the classes or according to current class levels, if the teams are renamed again after a school year or deleted and recreated - each school can decide individually.
Fixed online times can be set easily, video calls can be made to discuss the assignments of the day or lessons can be held via video or audio call. Here, students have the opportunity to ask questions via a chat function, which the teachers can answer directly either via chat or audiovisually. The teachers also have an overview of the students attendance. A further setting allows teachers to mute the participants and thus avoid interruption of their lesson.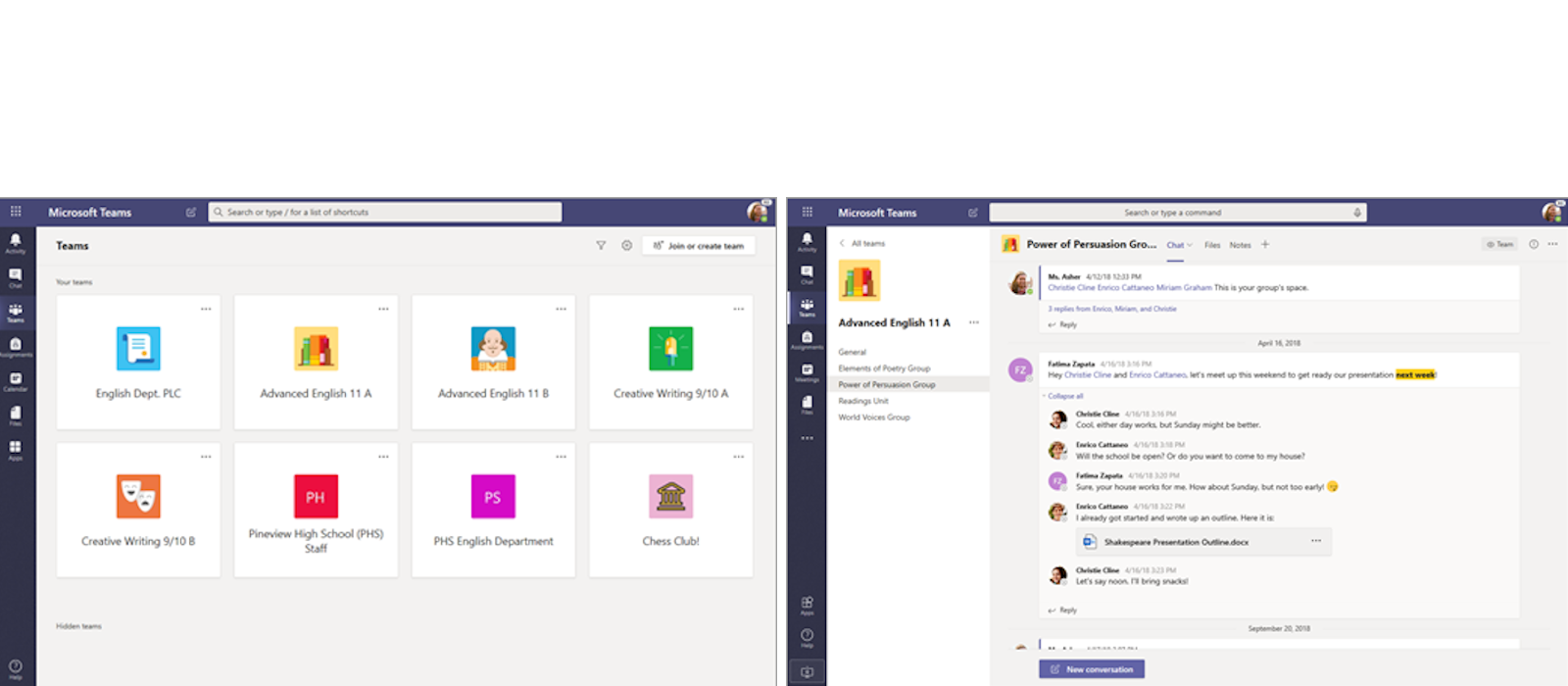 Every important application can be linked to and accessed via Teams, e.g. the OneNote course notebook for collaborative work, SharePoint for sharing documents, Stream for videos of recorded lessons or digital textbooks from third-party providers.
Teachers can create assignments in teams with the integrated Microsoft Planner, e.g. virtual group work as daily or homework assignments. In Microsoft Planner, students can be tagged, documents uploaded and deadlines set. Students can exchange information during the work process in the chat area under the task while teachers can track the current status and follow the discussion.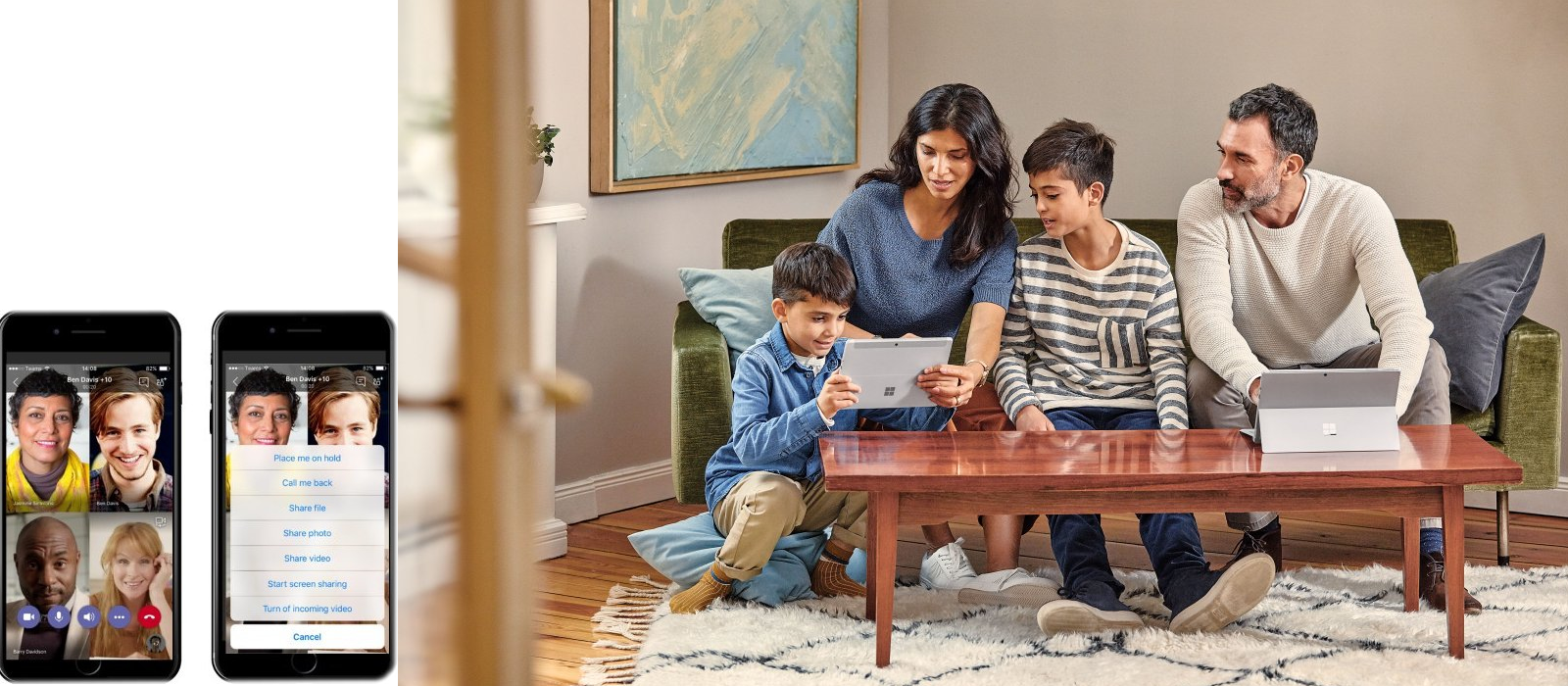 Microsoft Teams can also be used for small sports sessions. For example, small relaxation and stretching exercises can take place with the students in between via video conference, which enable a short distraction from school work and to clear the head for new ideas.
Learn more about other possibilities of Microsoft Teams for the use in educational institutions here.
Who needs a backpack full of notebooks: share materials, create assignments and establish a place to collaborate with the OneNote course notebook
While Teams provides the space for communication and linking necessary applications, the OneNote course notebook provides the basis to work in a concentrated way, either self-study or group work. It is divided into the following sections:
Student notebooks are private notebooks shared by teachers and students. Teachers can access individual students notebooks, but students cannot access each other's notebooks.
The content library is a read-only notebook where teachers can share material with students.
The collaboration space is a notebook where all students in the class can work together on projects.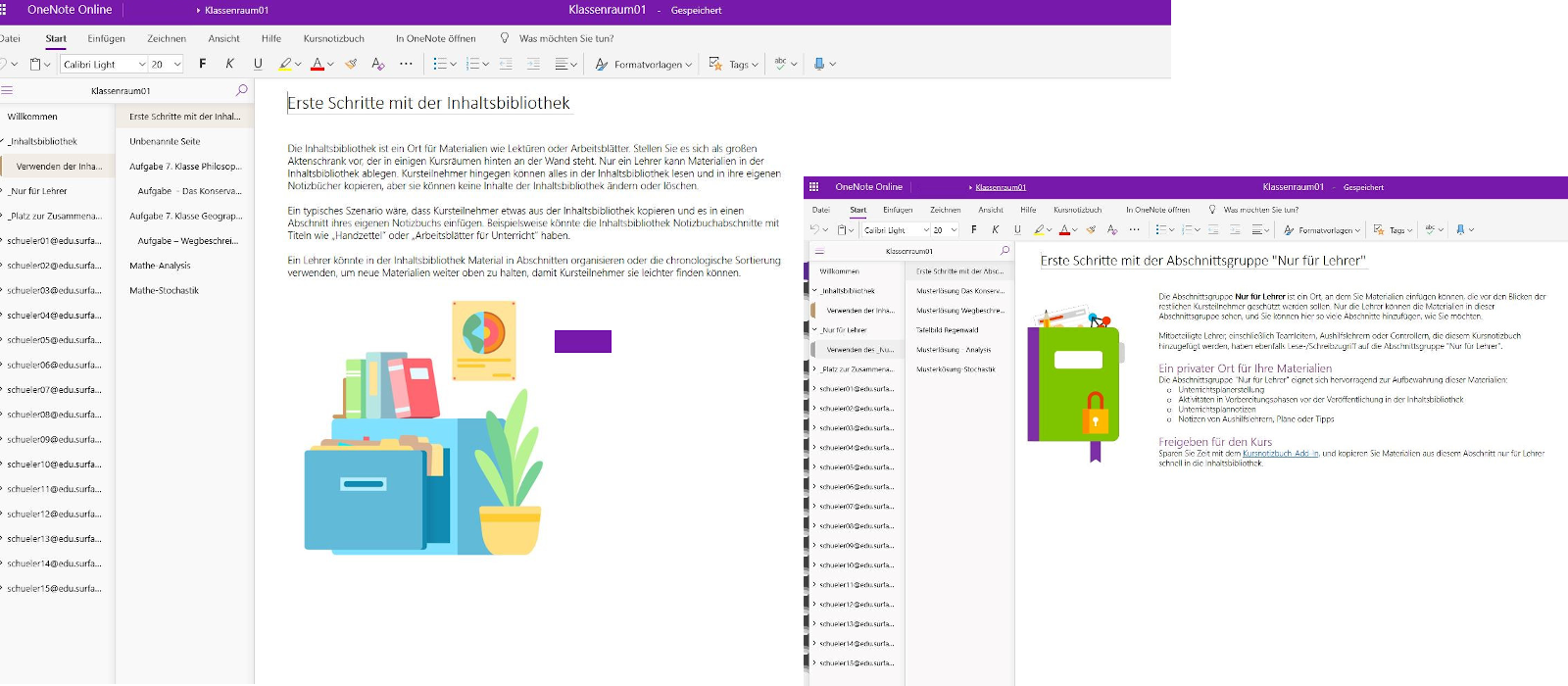 Teachers can, for example, use the content library as a virtual blackboard or distribute images for the respective lesson to students' notebooks with just a few clicks - students can thus concentrate better on their own notes and complement the materials in the way that works best for them to learn.
Teachers can create appropriate tasks in the course notebook for any subject and grade level. From pure text elements to graphics and audiovisual materials - with simple creative building blocks, the tasks can be designed in a variety of ways for learners and thereby promote different skills. Even solving mathematical tasks is possible thanks to the drawing tools and ruler function. Creative drawing tasks are also possible with the virtual pen and colour options of OneNote, the Surface devices and the Surface Pen options, as they react to the hand pressure of the person drawing and by doing so adjust the line thickness and more.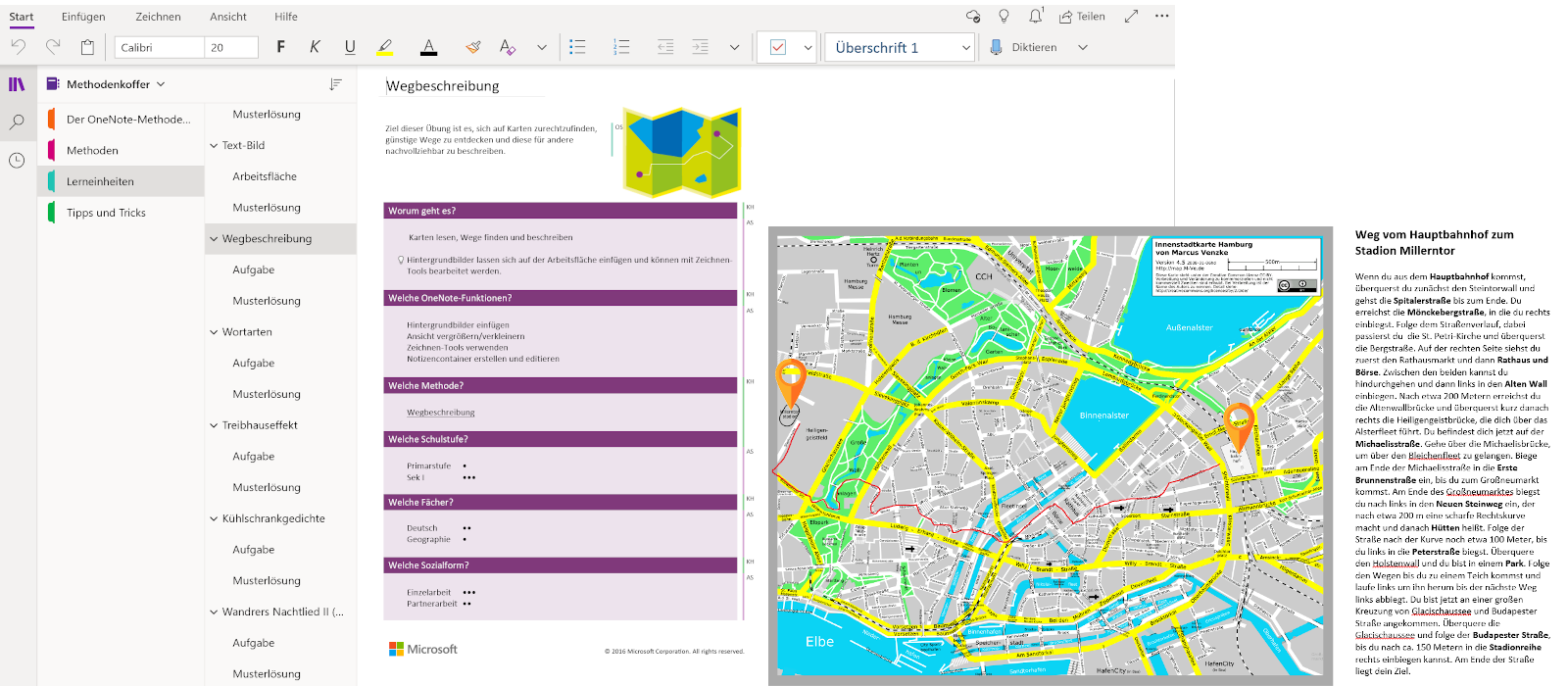 Microsoft also provides a method box that teachers can use to quickly create assignments. Here you can learn even more about the features of the OneNote course notebook.
Test your knowledge? Create quizzes and surveys in a short time with Microsoft Forms
Implementing quizzes and polls virtually? With Forms, you can create polls, quizzes and surveys in no time at all. After logging in with your school account, you can use the tool directly. The results can also be evaluated directly with the help of an analysis function. You can also choose between different answer options for students - from multiple choice to answering in text form.
It is also possible to insert pictures and videos to make worksheets or quizzes more vivid - they are in no way inferior to the analogue versions and further expand the possible design and evaluation. It is possible to get an overview of the students' current level of knowledge about what is to be learned at any time.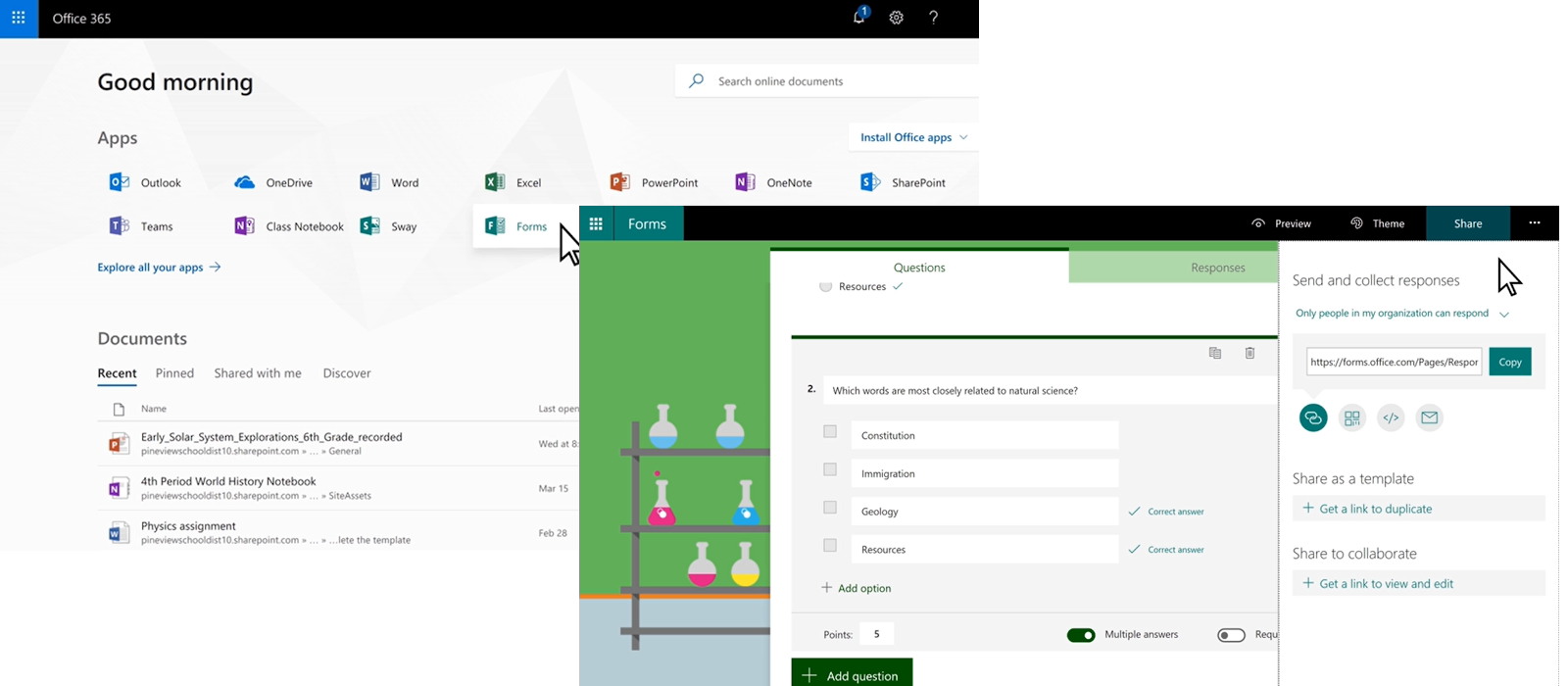 templates in Microsoft Forms can also be shared with other teachers at any time, so you can take work off each other's hands and support each other. Learn in this article how easy and quick it is to create quizzes with Forms.
With the Surface Go 2, Surface Pro 7 or Surface Pro X, you give students the option to work in either tablet or laptop mode. With the Surface Slim Pen, the Surface Pen or the Classroom Pen, handwriting is also applied and trained. The Surface devices and their accessories provide the ideal basis for making full use of Microsoft 365 and promoting all working, writing and drawing methods.
Contact us for questions about the rapid implementation of digital schooling options, free licences or equipment in affordable monthly financing options for your educational institution. We are available to advise you via education@surface.love.